Weed worries and advantages topic of Coaldale cannabis Public Hearing
Posted on October 16, 2018 by Sunny South News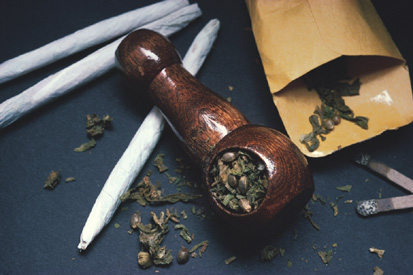 Sunny South File Photo
By Stan Ashbee
For the Sunny South News
Recently, Coaldale town council approved a cannabis consumption bylaw, which does not allow for smoking, vaping or consuming cannabis in any public place.
A Public Hearing for proposed Bylaw 746-P-09-18 — governing cannabis retail sales in the community — was also held last Tuesday afternoon and evening at The Hub.
Ryan Dyck, planner with the Oldman River Regional Services Commission (ORRSC) attended the afternoon Public Hearing to provide an overview of the approach other communities in the region are taking when it comes to cannabis retail sales zoning.
"There's a range of approaches here," he noted.
Some of the least restrictive approaches include the City of Lethbridge and the City of Brooks — with cannabis retail sales a permitted use in commercial districts.
Other communities in southern Alberta and across the province have made cannabis retail sales a discretionary use.
Stricter approaches would be creating a different cannabis retail sales land-use district or the Direct Control approach — Dyck explained.
One principle in land-use planning — when it comes to federal and provincial legislation is — "the local approval should not be stepping into the purview of the higher governments' scope of jurisdiction," Dyck added.
Dyck wanted to remind council to be careful about making decisions based on moral or religious drivers.
"Those types of decisions could open the door to a legal challenge with respect to the matter." Prohibiting land-use altogether is when challenges could occur, said Dyck.
Cameron Mills, the town's manager of economic and community development also provided a background report on the cannabis retail sales bylaw at both public hearings.
After two public hearings, town council heard from many residents, both opposed to cannabis retail sales in Coaldale and those in favour.
Coaldale and District Chamber of Commerce President Everett Duerksen presented a letter during the Public Hearing, which was also submitted to council for consideration on behalf of the chamber.
"We are writing to ask you to amend the proposed bylaw, which we understand would prohibit the sale of cannabis in Coaldale," Duerksen stated in the letter.
According to the letter submitted to council for consideration, the chamber held a general members meeting in September and the eligible voting members in attendance voted unanimously supporting a bylaw regulating, but not prohibiting the sale of cannabis in Coaldale.
"We do respect council's cautious approach to a newly regulated industry and yet we trust council could provide sufficient regulation designed to limit exposure to the perceived risk areas, while still allowing commerce to progress in this and its related industries," it was stated in the letter.
It remains the chamber's sincere desire, it was also stated in the letter, to improve the economic, industrial, and civic life of coaldale by the development of free enterprise.
Council voted in favour of allowing cannabis retail sales under Direct Control, as well as following a number of Alberta Health Services (AHS) guidelines.
Other communities in southern Alberta and abroad have selected the Direct Control route with the allowance of cannabis retail sales businesses, according to the reports presented during the Public Hearing.
Any cannabis retail sales business operations in Coaldale, according to the Direct Control approach, would have to submit an application to council for approval.