Grand reopening of the modernized Noble Central School
Posted on November 27, 2018 by Sunny South News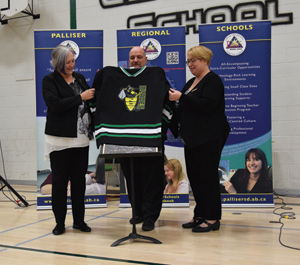 Photo by Nikki Jamieson
By Nikki Jamieson
Sunny South News
After two years of sawdust, sweat and construction noise, the Town of Nobleford is proud to show off their newly modernized school.
Noble Central School had their grand reopening on Thursday, Nov. 15, to celebrate the completion of the $8 million modernization project. With the completion of the modernization project, the school was granted new learning spaces and upgrades that were much needed, as the last major renovation occurred about 40 years ago when the gym was replaced.
"There's a lot of positive examples that provide a better learning for students, provide better accessibility for students as well, and in general, a lot of things mechanically have been upgraded as well, to ensure a safe and positive learning experience for our students," said Robert Strauss, chairman of the board of trustees for Palliser Regional School Division. "The old school had reached a point when we really needed to do something in terms of an upgrade, and it was at the end of it's life cycle, and we needed to, you know, find a way to inject a moderation process to allow the students to have a better learning environment, and the staff as well.
"It's certainly is a welcome addition to our school system in Palliser."
Some of the changes at the school include taking out the many staircases and streamlining them to make it easier to get around the school, making the front entrance way welcoming, bigger windows in classrooms to give them plenty of natural lighting, different chair and desk heights to suit their students needs and sliding glass doors acting as walls in the lower level of the school, to allow for bigger classroom sizes if needed.
"Really, what we wanted to do was focus on making this place where learning was a priority and that kids were happy," said Greg Rollingson, principal of NCS.
Although everything looks brand new at the school, it isn't without its nods to its history. Elements such as the original hardwood and exposed beams can be seen throughout the school.
"One of the things we tried to focus on in this project is that we respected the tradition and what has happened here in the past. This school has a lot of ties to the community, and has been here a long time, so we wanted to respect the tradition while modernizing it."
The school was kept open during construction, with classes being moved from one end of the school to another to allow for work to continued uninterrupted. At one point, classes and office space were held in the gym, which made for an often-noisy environment. Rollingson thanked staff, students and their families for their patience during the renovations.
"There were a lot of challenging times in the modernization process, everyone who has been through one knows that. But, the resiliency of the people in this building made coming to work everyday worth it. Having it finally completed, it just shows all the efforts that was put in our kids and by our staff and by our facilities and by the government of Alberta, just makes it worth it. It's relieving, it's a stress reliever, and as you walk around this school, you'll see happy kids and happy staff."