Fatal Coaldale fire under investigation
Posted on January 8, 2019 by Sunny South News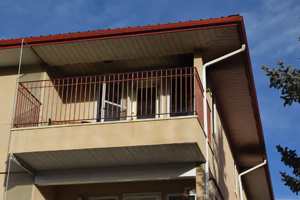 Photo by Nikki Jamieson
By Nikki Jamieson
Sunny South News
An apartment fire in Coaldale claimed the life of a woman last week.
On Friday, Jan. 4, at approximately 1 a.m., Coaldale RCMP answered a 9-1-1 call of a female in distress in a three-story seniors apartment complex at 19th Street and 23rd Avenue in Coaldale.
Staff Sgt. Glenn Henry of the Coaldale RCMP said they believe the occupant of the apartment unit, an elderly woman, made the 9-1-1 call, but at the time, there was no indication of the nature of the call.
When responding RCMP officers arrived and attempted entry into the third-floor corner apartment, a wall of thick smoke prevented them from gaining access to the apartment.
"Our RCMP officers came to the residence, and they were alerted by the people outside that there was a potential fire in a third floor apartment," said  Henry.
"Our members went to the door, gained entry to the door, but were stopped by a wall of smoke.
"They couldn't even see inside it was so bad."
The officers contacted the Coaldale Fire Department and quickly evacuated the building.
Upon gaining access to the apartment, the Coaldale Fire Department  rescued an unresponsive  woman from the apartment. The woman died from what is believed to be smoke inhalation causes at the scene.
The family of the deceased woman has been notified, and RCMP will not be releasing the name of the deceased.
The Coaldale RCMP, Coaldale Fire Department and the Calgary Medical Examiners Office will work together to determine the cause of death and the fire.
All other occupants of the building were safely evacuated while firefighters worked to put the fire out.
Although the fire was confined primarily to one apartment unit, some residents were not allowed to return to their apartments due to smoke and water damage.
The investigation into the cause of the fire is ongoing, although the RCMP do not currently suspect foul play.
"It is still under investigation," said Henry. "We don't feel foul play is here, but again, until we do a complete and thorough investigation, we're not going to comment on what the cause will be."