Lethbridge County's Bertha the Boiler replacement loan bylaw receives first reading
Posted on June 25, 2019 by Sunny South News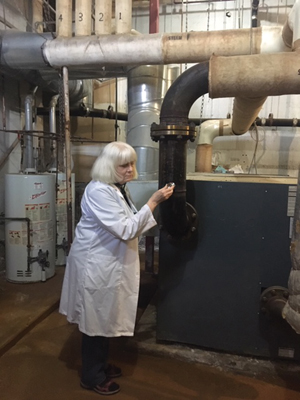 Sunny South Photo Submitted
By Nikki Jamieson
Sunny South News
Lethbridge County is considering a loan approval to help replace Bertha the Boiler.
During their regular June 6 meeting, Lethbridge County council were presented with a bylaw to allow the county to offer a loan to the McNally Community Association. Bylaw 19-018 — the McNally Community Association Air Management System Replacement Loan bylaw — would allow the county to provide of loan of up to $60,000 to the association for their replacement air management system.
The association is currently fundraising to replace their old heating system, Bertha the Boiler, in the McNally Community Centre before winter hits. They are looking to raise $85,000 to do so, and had previously approached county council during their regular May 16 meeting with a $80,000 loan request. As they had received other contributions, they reduced their request to $60,000.
Council had approved their request for a loan up to $60,000, with funds to be drawn from the Tax Equalization Reserve, for a term of five years at an annual percentage rate of prime plus one percent compounded monthly. The Tax Equalization Reserve balance is to be replenished as the load is repaid.
The Municipal Government Act gives councils the ability to provide a loan to a non-profit organization if they believe it will be used for a purpose that will benefit the municipality.
CAO Ann Mitchell informed council that she had received an email from Fortis informing her that they would be contributing an additional $5,000 to the association for the heating system's replacement, as the county was supporting the initiative as well.
"That will alleviate some of the total for the boiler," said Mitchell.
Tracy Anderson, director of corporate services for the county, also informed council that the association had put in an application to the Community Grant Program.
"We did make it up to $60,000, in the bylaw, so it can be any amount underneath that," said Anderson. "Lower would be better for us."
Coun. Morris Zeinstra said his concern was the need to do this before fall, and asked if they would be able to start on it "knowing that we're maybe working on some funding towards that, like the loan".
"We don't have any parameters that they can't start on it. I guess the risk there is on them that there is a chance that this could be challenged or not given third reading," said Anderson. "There is that risk to them, but there is nothing in our bylaws or anything saying they can't start to work out terms or something like that on their end."
Mitchell said that administration would be requesting a special council meeting on July 4 to potentially  help get the bylaw approved earlier.
Council passed first reading of the bylaw in a 6-1 split vote, with coun. Tory Campbell being the sole vote opposed.