Expect some Family Fun in Barons July 6
Posted on July 2, 2019 by Sunny South News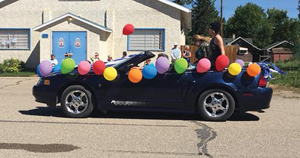 Sunny South File Photo
By Nikki Jamieson
Sunny South News
Some serious family fun will be going on in Barons this Saturday.
On July 6, the Village of Barons will be hosting their annual Family Fun Day.
"It's a day for families to come out and have some fun," said Mary Bishop, president of the Barons and District Ag Society.
"We try to do some activities for various ages in the community and outside the community."
The day starts with a pancake breakfast at the community hall from 8-10 p.m. with a food bank offering.
The Parade will go at 11 a.m. with a line up on Railway Avenue. After the parade, an Arts and Crafts show will go until 2 p.m. at the Seniors Drop In, and the Barons Legion will be open as well, so people can "stop in for a cool one or pop and ice cream float" and enjoy a few games of darts or shuffleboard.
A Farmers' Market will go at the Community Hall from 10 a.m.-3 p.m., and will feature a wide away of items, from baby clothes to art to baked goods.
A hotdog and ice cream cone lunch will be available there as well.
"We've got a full slate of venders, with different items."
Kids games sponsored by the ag society will go on the east lawn at 1 p.m., and at 2 p.m., the Barons Fire Department will be running different activities for all ages on the east lawn.
"They usually have their fire department open and they do some things over there, but this year, they've decided to do some things on the east lawn of the community hall."
New to Barons Family Fun Day this year is a garage sale fundraiser at the Barons United Church from noon to 4 p.m.
The history centre will be open after the parade until 4 p.m., and will feature different displays about family histories around the area.
"This year we're kind of highlighting Barons Elks, they're celebrating 90 years this year. So we've got a special display for the Barons Elks," said Bishop.
"If you're a history buff stop in and check out all the displays at the History Centre featuring '90 years of Elks in Barons'."
The day ends with a roast beef dinner at the community hall from 5-6:30 p.m., hosted by the ag society.
"There's something for everyone to enjoy and participate in," said Bishop. "Everyone is welcome to attend, save the date. Hope to see you out."