Settler Days goes July 5-7
Posted on July 2, 2019 by Sunny South News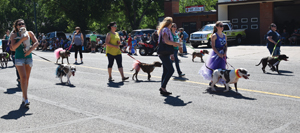 Sunny South File Photo
By Nikki Jamieson
Sunny South News
To help celebrate Coaldale's 100th anniversary, this year's Settler Days will be bigger than ever.
"This is a once in a lifetime thing; a hundred years is quite a significant milestone I think, and we just decided  we want to celebrate with the community," said Cindy Hoffman, community services manager for the town.
The three-day event starts Friday, July 5, with a kickoff BBQ by Western Tractor from 5:30-6 p.m at Millennium Park.
Activities at the park include a Big Equipment Show and Shine hosted by Western Tractor, family lawn games hosted by the Coaldale Library, and attendees can snack on coffee and treats from the Coaldale McDonalds, West Winds Popcorn Concession, Kona Ice Food Truck and Girl Guide Cookies for sale by the Coaldale Girl Guides.
There will be a 50/50 draw in support of the 3rd Coaldale Scouts, and a crib tournament will take place at the community centre.
At 7 p.m., movie lovers can attend the Double-Feature Movie in the Park, powered by Telus, which will show How to Train your Dragon: The Hidden World and Captain Marvel.
On Saturday, July 6, the Knights of Columbus will be holding a pancake breakfast in the Kinsmen Family Lounge at Millennium Park from 8-10 a.m.
From 10-11 a.m., there will be a pre-parade party on the street, which will feature the Good Timers Band at Sunny South Lodge, and buskers performing at various locations along 20th Avenue.
The parade will start at 11 a.m. Hoffman says they expect more entries in the candy parade, and because of that, the route is changing to help accommodate the extra entrants, with the start and end point being the block around  R.I. Baker Middle School. Because of that, the block will be closed prior to parade, starting around 8 a.m.
Candy lovers can also expect to get a significant hull this year; Hoffman said the town has 160,000 pieces of candy to hand out.
After the parade, a BBQ lunch in support of the Coaldale Food Bank will go in the Kinsmen Family Lodge at Millennium Park, and food trucks and activities like a petting zoo, face painting, stilt walkers and workshop, Coaldale & District Volunteer Fire Fighter Association slip and slide and a celebrity dunk tank will go at the park.
The Coaldale Public Library will host activities such as an art show and sale and an author reading, and a market place by Domesticated Divas Events, Petland Pets Exotic Reptile Petting Zoo and Prairie Pitbull Rescue Adoption Fair will go at the arena.
"Lots of lawn games, lots of bouncy castles, petting zoo, face painting, you name it, we've got a lot of stuff happening."
A wide assortment of acts have been lined up to perform on the ATCO stage, including Global Drums, Dance Images, Good Time Charlie and Trevor Panczak.
"We've got entertainment lined up right from basically from 11:30 in the morning right to 11 o'clock at night. A lot of it is local bands, local musicians, that are going to be playing for us," said Hoffman.
"Another big highlight, special for this year, is we're bringing in a motocross stunt show. They're based out of Kelowna, but they're going to come down and give us three performances throughout the day as well."
To finish off the Saturday, the town will also be hosting a fireworks display.
"To cap off the day, probably the biggest thing, and this will probably, you know, once in a lifetime thing again, we are planning a tremendous fireworks show at about approximately 10:45 (p.m.), so that will be something really unique for Coaldale," said Hoffman. "We though this would be the perfect year to plan some fireworks to bring to the community for everyone to enjoy."
On Sunday, July 7, CSN Kustom, Coaldale Food Market and Twisted Steel will be hosting a fund raiser BBQ Brunch on 20th Avenue starting at 10 a.m. to celebrate both Coaldale's Centennial and CSN Kustom's 50th anniversary, and the weekend wraps up with Cowboy Church at the Gem of the West Museum at 4 p.m.
Hoffman thanked the volunteers who helped plan the festivities, noting it was a year in the making, and said she hoped to see the community come out and enjoy themselves.
"It's just a tremendous opportunity for the community to come together, it's just a fun day."
More information can be found at http://www.coaldale.ca/100.