Medieval Faire returns for third year
Posted on July 16, 2019 by Sunny South News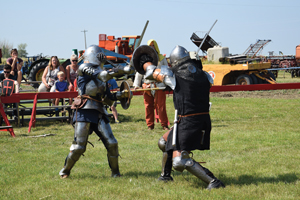 Sunny South File Photo
By Nikki Jamieson
Sunny South News
Some medieval fun will be going on in Lethbridge County this weekend.
The 3rd annual Windy Castle Medieval Faire will be going July 20-21.
"Last year, for cost value we went to one day, and it's just not enough to cram it all into one day, so we've gone back to the two-day venue," said Lady Michelle Cooper, president of the Windy Castle Medieval Faire.
Some new additions to the faire this year are the Red Stags, a group from red Deer, coming down to give some family-friendly performances.
"(The Red Stags) are a troupe out of Red Deer. They are family-based, so they will give the younger people a sword, and let them go ahead and whack at the knight."
There will also be four Mounted Combat clinics, hosted by Smith's Mounted Medieval Clinic. Interested participants who bring their horse will be taught, from horseback, how to joust, archery and sword-fight.
A jousting competition will be making a comeback to the faire this year.
"They were a big hit on the first year," said Cooper. "We're really looking forward to them, they always put on a great show."
Armed combat, aerial acrobatics by Cirque Sensation, storyteller Calum Lykan, medieval magician Lothar Malmberg will be returning to the faire, and the Lethbridge Medieval Club will be running a medieval village. True North Axe Throwing will be there, along with bouncy castles and arrow tag. A feast will go on Saturday night at 6 p.m.
"It's a bunch of people having fun exploring the past," said Cooper. "It's a chance to explore your history and get in touch with your roots, and see how people lived way back when."
The Windy Castle Medieval Faire will go Saturday, July 20, to Sunday, July 21, south of Coaldale off Highway 4 on Township Road 74. For more information, visit https://www.windycastle.com.