Coaldale Centennial Homecoming this weekend
Posted on July 30, 2019 by Sunny South News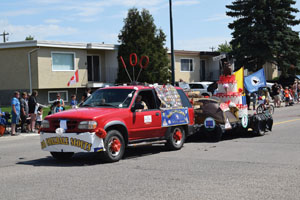 Sunny South Photo by Nikki Jamieson
By Nikki Jamieson
Sunny South News
Coaldale will be celebrating Centennial Homecoming this weekend.
"Homecoming is an opportunity to come back home and see their roots and see what Coaldale is like and just meet up with old friends and classmates," said Doreen Lloyd, Coaldale councillor and member of the Centennial Homecoming Steering Committee, a subcommittee of the Centennial Committee. "It's amazing how many people have roots in Coaldale and it is so vital for them, they want to come back here, and they're bringing their children who have never ever lived here, because they want to see where their parents grew up. So yeah, it's a lot of nostalgia."
"I think it's really amazing, because initially, Doreen and myself and Wayne Street were having our meeting over the coffee stable and that, and  now as the momentum has grown, Doreen most recently had a meeting with 12 different people," said Kim Craig, Coaldale mayor and member of the Centennial Homecoming Steering Committee. "We're hoping that lots of people that (know about it) or finding out about it for the first time can make some time on the weekend and come and participate in it. There's different things that can happen, there's breakfast and lunch and supper on the day of, (and Sunday) brunch. So lots of different ways to have a good meal and lots of good visiting opportunities. So if a person is just hearing about it for the first time, by all means, come on out to the community centre area, the sportsplex area and see what's going on and participate."
Souvenir programs will be distributed by the Coaldale Scouts, and the town will be selling copies of a keepsake book — Coaldale Gems of the Past — for $15 throughout the weekend.
Homecoming events kick off at 4 p.m. on Friday, Aug. 2, with a coffee house at the curling rink and centennial book sales — Coaldale Gems of the Past and Coaldale Hospital Memoirs —and registration at the community centre. Choir practice for an event on Sunday will be taking place in the arena.
The town is asking people who attend homecoming celebrations to register their names with the town so they could have a record on who came.
When registering, people can also pay for the tour and meals.
"More or less just to have a historic record of who came more than anything," said Craig.
The festivities continue on Saturday, Aug. 3 starting with a pancake breakfast from 8:30-10 a.m., hosted by the Knights of Columbus. Hayrides will go at the curling rink from 9-11 a.m., and a bus tour, with stops at places such as the Gem of the West Museum, Alberta Birds of Prey Centre and Centennial Wetlands and Park, will run from 9-11:45 a.m. Choir practice will go at the arena starting at 10:30 a.m. for the event on Sunday.
From 12:30-1:30 p.m., a meet the authors, artists and athletes event will be held at the curling rink, featuring Canadian authors Ruby Wiebe and Joy Kogawa.
"They're going to be doing little talks about their books," said Lloyd.
Book sales and registration continue throughout the morning, from 8 a.m.-1:30 p.m.
At 2 p.m., the Centennial Homecoming Official Program will begin at the arena.
"Duncan Lloyd and Bill Martens will be doing the reminiscing and they've both grown up in Coaldale and have been on town council for many years together, so we're looking forward to hearing from them. (Lethbridge MP) Rachael Harder is going to be coming here as government representative."
From 4-6 p.m., Polkaholix will be playing, and at 5 p.m. a BBQ and Birthday cake supper will take place.
From 7-9, reunions will take place for Kate Andrews High School grads at the high school, AMHS at the Gem of the West and Baker/Coaldale High School at the community centre.
Additionally, going all day at the curling rink will be a coffee house, ice breaker passport cards, displays with pictures and memorabilia, a photo booth, and artist, author and athletes corner and a silent auction — featuring two limited edition gold foiled Coaldale Gems of the Past Books, two 1980 Coaldale history books and three quilted wall hangings featuring nostalgic buildings in Coaldale's history. An antique car show — featuring the 1965 firetruck — will go at Millennium Park.
"Saturday will be a very, sort of a potpourri of events," said Craig. "A person can come by and they can look at the program and pick and choose, sort of à la carte.
"There will be opportunities to meet authors, hear about the sporting history in Coaldale, many, many other opportunities, a silent auction, lots of different things."
On Sunday, Aug. 4, a worship service will take place at the arena, featuring guest speaker Ron Nikkel and a community choir led by guest director John Pauls, with a brunch taking place at 11:30 a.m.
"One of the  big attractions is we're having a community choir, and of course, the people are excited to come back and sing a four-part harmony, because you don't hear that much these days," said Lloyd, adding they're expecting over 100 people. "The choir director, (Pauls), is from Coaldale, and he was a community hour and church choir director years ago and very well respected, and I think a lot of people are coming just to sing underneath his direction.
"That choir is going to be just absolutely phenomenal."
Although Coaldale will officially turn 100 on Dec. 27, 2019, Craig noted that it is often easier celebrating big events in the summer.
"It's a summer long weekend, and people are able to travel without restrictions, wondering what the road conditions will be like, and the ability to have the event all over and not have winter weather dampen anyone's spirit," said Craig. "We sure hope that people in Coaldale will extend a really warm welcome to all the people that are coming in August long week to participate in homecoming, and give them a warm welcome and make them feel that Coaldale is still they're home."
"What a better way to spend heritage weekend them to have everybody come back," said Lloyd.
For more information, visit https://www.coaldale.ca/about/events/centennial-homecoming.
"We sure hope that people in Coaldale will extend a really warm welcome to all the people that are coming in August long week to participate in homecoming, and give them a warm welcome and make them feel that Coaldale is still their home," said Craig.