Sunny skies for Coaldale-Lethbridge Growing Project's harvest
Posted on September 3, 2019 by Sunny South News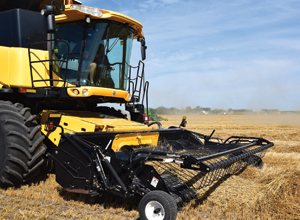 Sunny South Photo by Nikki Jamieson
By Nikki Jamieson
Sunny South News
The weather was much nicer this time around for the Coaldale-Lethbridge Growing Project's Harvest.
"It's kind of ironic; I live two miles from here, and there was a little shower that came through on Wednesday night, and it hit my yard and this field. And I walked through this field on Wednesday night, and I thought, 'Are we going to go? Aren't we going to go?' and then, last Thursday morning, we had a three-minute rain with thunder at five o'clock, and we knew we weren't going to go,"  said Larry Penner, media contact for the Coaldale-Lethbridge Growing Project, at the rescheduled harvest on Aug. 29. "As it  turns out, the wether is gorgeous today, the crop is not deteriorated at all, sitting in the swath. Plus, we have the opportunity to get a few more people finish off their barley harvest themselves, in order to be able to come participate today."
The crop looks good, and before the harvest went, Penner said he believed they would have either an average or above average yield.
"We've got a quarter section of barley that we're harvesting today (Aug. 29). We've chosen barley specifically for the purpose of making sure that we can get our neighbours and those in our region involved," said Penner.
"This is a large dairy feed yard location, so many of our clients that have brought some of the grain today are local ag producers at feed yards or dairies or poultry producers looking to utilize this grain in their own operations."
Penner noted that the growing project does rent the land, however, the needed chemicals, fertilizer and seed have all been donated, and Western Tractor seeded the crop for them this year.
Spraying had also been donated, and those operating the combines and trucks that had came to help harvest and haul the crop away were all volunteers.
"It's great to see; they're all volunteers, they're all people coming together and working together and taking time out of their schedule to harvest the crop and than donate the proceeds to the Canadian Foodbank," said Andre Visscher, the Alberta regional coordinator for the Canadian Foodgrains Bank.
"It really makes my heart feel warm, it's really great."
The grain itself was pre-sold at the MCC Sale and Auction that had taken place in Coaldale at the beginning of June.
"With both of these organizations being so involved with world relief, it has been an awesome opportunity to partner with them back in early June in order to get this done," said Penner.
Although as of press time, the amount raised was still to be determined, Penner said if they produced the amount of barley they had sold at the MCC sale back in June, they would have raised $177,000.
"It makes a big difference. That means that we can, with these funds, we can help people in the world that do not have enough food," said Visscher.
"There are still too many people in the world that are unary, that go to bed every night with only one meal or no meals a day. Right now we're working in Africa, in southeast Asia, especially in areas where we had cyclones earlier this year.
"We were able to supply emergency food, and now we're working on helping them to put a new crop in the ground, and giving them tools and seeds so that they can grow food for themselves."