Coaldale Chamber hosting election forum
Posted on October 1, 2019 by Sunny South News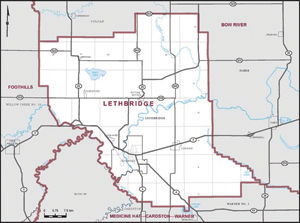 Sunny South Graphic from Elections Canada
By Nikki Jamieson
Sunny South News
The Coaldale and District Chamber of Commerce has invited candidates to take part in an election forum on Oct. 8.
"I think it's probably the best way for the public to meet the candidates, to hear firsthand what they have to say about their plans," said René van de Vendel, president of the CDCC. "I hope that lots of people come out."
Van de Vendel wants to ensure that the federal Lethbridge Riding candidates have the opportunity to answer questions important to business and community members in the area, as the roll of a chamber of commerce is to lobby for various initiatives and issues concerning businesses with all levels of government. Attendees are asked to pre-submit questions to info@coaldalechamber.com prior to the event. The deadline for all submissions is Friday, Oct. 4 by 5 p.m. Questions will also be taken from the floor during the forum.
"We feel that it is fair to all of the people to have some time to think about some questions, and well as to the candidates to have some good answers for those. It's basically just to give people a good chance to prepare," said van de Vendel. "Now, in addition to that, we are also going to take questions off the floor, so we're not limiting it to pre-selected questions at all."
The CDCC candidate forum will take place at the Coaldale Community Centre on Tuesday, Oct. 8, starting at 7 p.m.
The federal election will take place on Oct. 21, with advance polls going Oct. 11-14. People can register to vote or update their personal information by going to elections.ca. All voters will require photo ID on election day. Those who have not pre-registered to vote can still do so by presenting photo identification and proof of current address to their local polling station.