Night of Lights goes Friday
Posted on November 19, 2019 by Sunny South News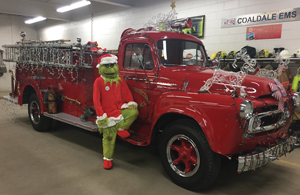 Sunny South File Photo
By Nikki Jamieson
Sunny South News
Night of Lights is back, and Santa Claus is making an extended visit this year.
Santa will be paying a visit to three different locations in town this year, starting at Prairie Wide Insurance from 3-4:30 p.m., where he will be available for pictures, followed by doing story time at the Coaldale Public Library from 4:30-6:30 p.m. He of course will be taking part in the parade, before finishing off his evening at Prairie Sky RV after the parade.
"He wanted to get around and just get to different parts of town and just kind of visits some of the businesses as well," said Cindy Hoffman, community services manager for the town. "He just wanted to give people the opportunity to, maybe if they didn't come down to Main Street or it was too busy for the little gaffers, the kids will be able to see him at different times or different locations."
While in previous years, he met with kids after the parade on 18th Street, the area got quite crowded. Safety concerns were also raised when he and Mrs. Claus got off the float during the parade, as the kids would get excited and want to head over and greet him right away. This way he'll be able to get off the float safely and meet with the children of the community without causing a traffic jam.
While Santa's visits are always a highlight of every event, the Town of Coaldale has plenty of activities planned for the night.
"We have a few more activities and businesses and stuff participating. As always, we have the parade at 7 p.m. to ," said Kaitlyn Davis, community service coordinator for the town.
"It's a fun, exciting event for the town of Coaldale. It's something different, to have a Night of Lights parade, you don't see that often, and you see a lot of the businesses and people in the town coming together to offer all these activities and such for the citizens of our town, that I think it's a nice way to kick off the Christmas season and get into the spirit of Christmas."
Public skate will be going at the Coaldale Arena from 5:15-8 p.m., and local businesses and organizations will be running fire pits and activities throughout the evening.
An ice carver will have a display carving over at the library, along with an ice-carving demonstration from 4:30-6:30 p.m. Hoffman says this will help end off the Coaldale 100 festivities.
The Mosaic Mural that the community created in September will be unveiled at the library at 5:30 p.m. as well.
"We wanted to do it during a celebration, but we didn't want to leave it too long either," said Hoffman. "This was the next big celebration after Culture Days, so we thought it would tie in nicely to sort of wrap up the centennial year, Night of Lights. People are out and about, and yeah, just add to the celebration."
Night of Lights will go Friday, Nov. 22, starting at 3 p.m. in Coaldale.