Hay bale fire closes Highway 845 in Coaldale
Posted on December 23, 2019 by Sunny South News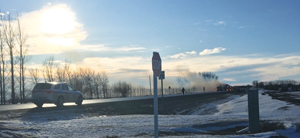 Sunny South photo submitted
By Nikki Jamieson
Sunny South News
A semi-truck with hay bales on fire closed Highway 845 through Coaldale for several hours on Friday.
On the morning of Friday, Dec. 20, a semi-truck traveling northbound on Highway 845, and had came into the Town of Coaldale by the Cottonwood neighbourhood when it was discovered that the hay bales it was carrying had caught fire.
The highway was shut down between Highway 512 and Cottonwood Drive intersections to allow the Coaldale fire department to put out the fire.
Firefighters had to deal wind conditions at the time while putting out the fire.
As of press deadline on Friday, the affected portion of Highway 845 was still closed, and it was expected to be closed for a few more hours while the fire is put out.
No injuries were reported.
The extent of the damage to the semi or trailer is to be determined.