Town of Coaldale stacks up
Posted on January 14, 2020 by Sunny South News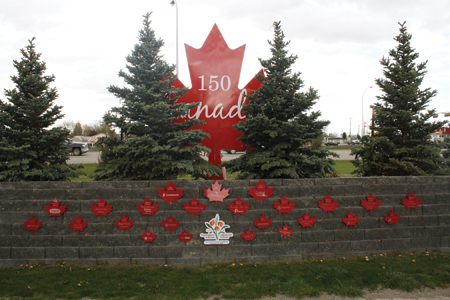 Sunny South File Photo
Comparative analytics report shows how Coaldale is doing compared to similar municipalities
By Nikki Jamieson
Sunny South News
The Town of Coaldale is stacking up well compared to similar municipalities, according to a report last month to council.
During their regular Dec. 9 meeting, Coaldale town council received a comparative analytics report of the Town of Coaldale and other comparable municipalities.
The report compares Coaldale to the City of Lethbridge and Lethbridge County, due to their proximity to Coaldale, and six comparable municipalities, including Taber, the nearest 'competitor'; Blackfalds, the nearest 'comparable'; Innisfail, Edson, Drumheller and Ponoka.
The report looks at the 2018 operational expenditures, taxation and assessment, assessment growth from 2014-20 and population growth from 2014-18 for the above mentioned municipalities for benchmarks.
"First and foremost this type of comparative analysis is just a good business practice; it's always good to know how your operation stacks up against other similar operations, and municipalities are no different," said Cam Mills, manager of economic and community development for the town.
"Keeping abreast of how other municipalities are operating is something we've been doing regularly, but we felt that it made sense to formalize and consolidate the process a little bit so that we can really get a clear sense of the bigger picture. Doing this type of work helps us understand how we're doing, it provides us with an opportunity to understand how we might do better in some areas, and it can also help to highlight where we might already be doing well.
"The (report's) findings show that growth has been strong, business tax rates are low, and that operating expenses have been kept in check even during a period where we've engaged in substantial capital investment, which is positive."
In terms of 2018 operational expenditures, Coaldale's operational expenditure as a percentage of revenue of 68 per cent, the second lowest of the comparable municipalities, with the lowest being Lethbridge at 64 per cent, the third lowest being Drumheller at 74 per cent and the highest being Ponoka at 91 per cent.
"Our per capita expenses are the lowest in the field by a fair margin, and that's especially true from a staffing perspective where we're substantially lower than our comparables," said Mills.
"We're also quite low in terms of wage expenses as a percentage of revenue, which suggests we're getting good value for our money in terms of staffing costs. Coaldale is also the second lowest municipality in terms of total revenue per capita; if I were running a business this would be an obvious area where I'd clearly be working to increase that figure, but for a municipality keeping revenues down can suggest good news in terms of things like tax and utility rates, which represent the lion's share of revenues, so it's a little more complicated of a figure to analyze."
The report also shows that Coaldale is steadily growing.
Between 2014-18, Coaldale's population has increased from 7,526 to 8,671, in increase of about 15 per cent. in terms of growth percentage, this puts Coaldale behind only Blackfalds at about 29 per cent.
This is versus 6.8 per cent in Lethbridge, although the city already had a much higher population than Coaldale, and 2.7 per cent in Taber, which current has a similar population to Coaldale.
Mills says the residential assessment growth of $209,082,300 — the third highest among the comparable municipalities — between 2014-20 shows that there is "healthy ecosystem for continued growth in Coaldale".
Additionally, he called the $54,361,253 growth of non-residential assessment — the fourth highest among comparables —"particularly exciting".
"During this period of substantial growth, more than 20 per cent of the assessment growth comes from our business and industrial expansion. This is significant given that only about 10 per cent of our overall assessment right now is in the non-residential category; it means that even though residential growth is solid, non-residential growth is outpacing it, relatively, by a good margin," said Mills.
"That's good news for this community, it is in line with the goals we have set to continue to grow our business base, and it's certainly reflective of the strategy that our elected officials have set of keeping non-residential taxes low in order to incentivise that growth."
However, non-residential assessment only accounts for about 11 per cent of Coaldale's tax revenue, compared to 24 per cent in Taber and 20 per cent in Lethbridge.
"Growth in that area is something that has been quite successful but it's also something we're committed to keep working on," said Mills.
"One of the things that we've also been doing to continue to grow that non-residential base is to invest in infrastructure improvements that are necessary to attract new business and retain our existing business community; we're working on downtown revitalization as we speak and we have budgeted to invest heavily to improve things like our fire department and our wastewater treatment capacity, which will allow us to continue to attract new business investment to the Town over the coming years."
Mills said that Coaldale's residential tax rates are competitive being between Taber and Lethbridge, and the town is committed to keeping them down as they work on diversifying their revenue stream, to try to take pressure off of residential taxes in the long term, and are pleased to able to keep their staffing and contracted services costs low while working to get the best value they can in those areas.
The town has also seen improvements in overall solid waste service cost, and Coaldale is working with the Federal government in regards to their town's policing agreement, which Mills says from the town's  perspective should be lower in line with what other similar-sized communities are paying.
Coaldale is currently the only community of it's size in Canada to pay full costs for its RCMP policing, all other municipalities between 5,000-15,000 people pay 70 per cent of the cost.