Local donating s-hooks to protect health workers' ears
Posted on April 21, 2020 by Sunny South News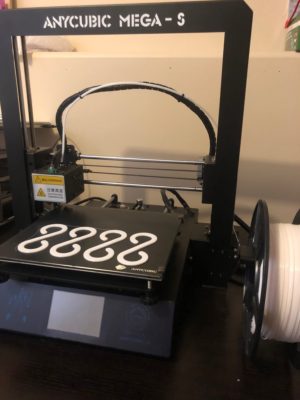 Sunny South photo submitted by Stacey Pidborochynski
By Nikki Jamieson
Sunny South News
A Coaldale woman is hoping her donations will help medical professions wear their face masks a little easier.
Stacey Pidborochynski has been making s-hooks, a plastic s-shaped device, that help those wearing face masks better protect their ears.
"The purpose of it is to have the straps or the elastics from a face mask, it would then rest or hook onto the 'S', rather than pulling on the back of somebody's ears," said Pidborochynski.
Pidborochynski had gotten a 3D printer last year, and in a Facebook group she is a part of somebody had created and shared a file for printing s-hooks.
As she was new to 3D printing, she thought she would try creating them, as it wasn't too complex to do.
As she heard stressed she was not in the medical profession, she knows people who are and heard of their issues with ear pain with the increased wearing of face masks due to the pandemic. She reached out to friends in the health care industry and in Facebook groups to see if they would have any use for the s-hooks, and the response she received has been positive.
"Prior to this pandemic, the amount of time you would wear a face mask probably be a few hours a day, if that. But now, people are having to wear face masks for their entire shift, so eight to 12 hours, every day, day after day, you would have the masks kind of like resting or pulling on the back of your ears, which, from what I understand, can cause irritation, rashes, pain, things like that. So this would just take to pressure completely off of somebody's ears and allow it to be connected to a piece in the back of their head."
Pidborochynski says she's heard of people doing this in the Calgary region, and at the time of this interview, she was sending them to places in Lethbridge, Fort MacLeod and the COVID-19 ward in Regina.
"With everyone wearing face masks and the uncomfortableness on the ears, the pain of the elastics around the ears, it's more of a comfortable wearing of the masks for our staff and/or clients, should the clients need them," Val Campbell, executive director of the Foothills Centre in Fort Macleod, where some of the s-hooks are going.
"Community support has been wonderful, we so appreciate the donations we've been getting and the support. It's just helpful for us right now, everyone is high-stressed and it's nice to know that someone is thinking of us and being generous with their supplies to us."
Pidborochynski noted that with the shortage of protective gear, this was something she could do to help.
"This is something that I obviously never experienced before, and it's pretty scary to think about how fast we experienced a nation-wide or world-wide shortage of supplies," said Pidborochynski.
"My generation, from the time we're adults, we've had things like Amazon and the internet for online ordering and we've been able to get whatever we need within days, and for us to experience such a huge wide-spread shortage is pretty scary, and it's definitely a small contribution, but with a lot of stores closing, a lot of supplies being restricted, I think everybody is restricted in what they can do, so it was just something small and local that, you know, I could offer, or the others could in this area, to at least help out until something else is created and sent out."
Pidborochynski will print and send s-hooks free of charge to health care facilities. Those interested are encouraged to text or call her at 403-393-3159, or email staceypid@live.ca.