Sunny South News offices open to the public
Posted on May 26, 2020 by Sunny South News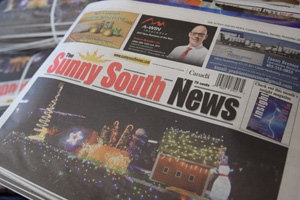 Photo by Nikki Jamieson
As the province reopens after two months, the Sunny South News offices are open to the public with full hours.
The Coaldale office will be open 9-3 p.m., Monday to Friday. You can also reach staff by calling 403-345-3081.
The Picture Butte office will be open one day a week starting next week. Please check your copy of that week's SSN for when the office will be open. You can also call the Picture Butte office at 403-732-4045, however, if someone is not there, you can still contact us by calling the Coaldale office number at the number listed in the above paragraph.
Please note that social distancing measures are still in event, and office hours may change deepening on direction from the government.
You can contact staff by email: Karol, the office manager, at office@sunnysouthnews.com; Nikki, the editor, at ssnews@sunnysouthnews.com; and Bonnie, the salesperson, at bonnie.mills2@gmail.com or at 403-382-5643.