Irrigation districts receive provincial funding
Posted on August 11, 2020 by Sunny South News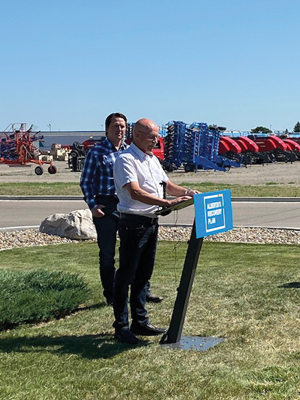 Photo Submitted by Lethbridge County
By Nikki Jamieson
Sunny South News
Local irrigation districts have been provided funding as part of of a provincial rehabilitation program.
The Lethbridge Northern Irrigation District will receive over $1 million as part of the $10 million allocated for the provincial Irrigation Rehabilitation Program this year, and the St. Mary River Irrigation District will receive over $2.6 million this year. The program aims to improve the water infrastructure that provides water for irrigation and agricultural operations, municipal use, recreation, wildlife and habitat enhancement.
"The staff at Lethbridge Northern Irrigation District work hard every day to make sure that water is delivered efficiently and safely. This funding will help ensure our infrastructure remains strong and can keep up with demand now and in the future," said John Vandenberg, board chair of the LNID.
"This is a significant announcement for our region," says Klaas VanderVeen, deputy reeve of Lethbridge County.
"Irrigation plays such a pivotal role in the local economy, supporting our agricultural producers and agri-food processing operations. The irrigation districts rely on stable and reliable funding to provide the area with water — a critical resource."
Started in 1969, the program provides cost-shared funds to irrigation districts to help rehabilitate irrigation infrastructure, with the Albertan government contributing 75 per cent of the cost and the irrigation district contributing 25 per cent.
While $10 million is earmarked for the program this year as part of the province's 2020-21 budget, the amount will increase to $12 million in subsequent years to help irrigation districts across the province.
Alberta's irrigation industry creates approximately 56,000 full-time jobs and contributes about $2.4 billion in labour income annually, and the irrigation sector adds $3.6 billion in annual GDP to Alberta's economy every year.
"Irrigation infrastructure is critical to economic stability in southern Alberta. This grant will increase great-producing irrigated farmland by conserving water and increasing water efficiency through pipelines. We were elected to deliver on jobs, the economy and pipelines and this project supports all three," said Devin Dreeshen, minister of Agriculture and Forestry for the province.
Irrigated land in Alberta makes up almost 70 per cent of all the irrigated acres in Canada. The province's irrigation districts contain more than 42 reservoirs and about 7,600 kilometers of conveyance works, including canals and pipelines, which carry nearly two billion cubic meters of water per year.
Earlier this year, Lethbridge County had signed a Collaboration Framework Agreement with the LNID and SMRID, which formalized their relationship and will guide future partnerships.
"The Irrigation Rehabilitation Program Grants announced (on Aug. 5) will ensure that the area's irrigation infrastructure can keep up with demand and our producers can continue to provide the high-quality products we are known for in Southern Alberta," says Ann Mitchell, CAO for Lethbridge County.  "Agriculture is the backbone of the county's economy and our businesses contribute substantially to Alberta's GDP. The irrigation districts support these businesses by providing efficient water delivery systems and this funding will allow them to continue meeting the high demand for water."