Farming Smarter receives grant for risk management system
Posted on September 29, 2020 by Sunny South News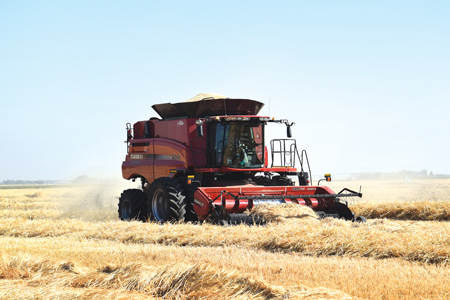 SSN FILE PHOTO
By Randy Jensen
Alta Newspaper Group – Lethbridge
Through the Canadian Agricultural Partnership, the Government of Alberta is providing the Farming Smarter Association with a grant up to $74,700 for a risk management and warning system for disease outbreaks.
Alicia Zoeteman, representative on behalf of Lethbridge MP Rachael Harder, Taber-Warner MLA Grant Hunter, Ken Coles of Farming Smarter and Lethbridge County Reeve Lorne Hickey were on hand for the announcement last month.
"We have some of the most innovative farmers around in southern Alberta," said Hunter in a release from the province. "Investments like these will create jobs and expand our opportunities to diversify the economy."
Funding through the Canadian Agricultural Partnership helps develop the agriculture sector as a whole, increasing efficiency and creating new opportunities for growth.
"Farming Smarter supports Alberta's agriculture industry through innovative and practical research," said Lewis Baarda, field tested manager and project lead for Farming Smarter. "With the help of this grant, we are studying a new early warning system for crop disease outbreaks. We expect to provide farmers with better tools for evaluating risk and improve on-farm decisions that reduce crop inputs and costs."
The province added in the release as demand for food grows globally, it is important to have an effective warning system for disease outbreaks to reduce food loss.
"Lethbridge County has the highest gross farm receipts of any rural municipality in Alberta, and we are very proud of our agricultural sector," said Hickey. "We appreciate this investment by Farming Smarter that will help safeguard and improve the resiliency and stability of the agricultural sector. This investment helps Alberta stay at the forefront of high quality, safe and reliable food production."