AWNA highlights National Newspaper Week
Posted on October 6, 2020 by Sunny South News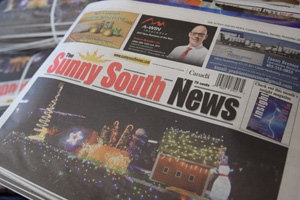 Photo by Nikki Jamieson
By Justin Seward
Southern Alberta Newspapers
National Newspaper Week is ongoing all this week and "now is more important than ever, " said Dennis Merrell, Alberta Weekly Newspapers Association's executive director, to recognize what newspapers mean to acommunity.
Merrell believes the Association needs to be the ones that send the informationout.
"I think it's critical," said Merrell. AWNA has entered into a partnership with AdCanada Media, which has been doing a promotion across the prairies for communitynewspapers.
There was also a meeting held with the premier's office inJuly.
"The provincial government has kind of forgotten about us," hesaid.
"We're working hard to remind them as well as the federal government and others that we're still a viable newspaper medium that's read and important to thecommunities."
AWNA has shifted their focus into an advocacy role for thenewspapers.
"I think some of our smaller papers are almost on life support," saidMerrell.
"We've been getting involved in issues like municipal governments for example moving towards putting their messages and public notices online instead of using the local paper-which is really something that it's hard to believe that they're considering that's all they have todo."
The Association is also getting involved in issues such as newspaper recycling because more provincial governments across the country are implementing stewardship programs where in AWNA's case, they have to pay for cost of recyclingnewspapers.
"We're not looking at added cost, we're looking for revenue and these times are really important to keep journalists employed," hesaid.
"Anything we can do and focus the light upon that, like how important it is to maintain working journalists in communities throughout the country, because we're very much in danger of losing that in a lot ofcommunities."
Merrell says more editorial departments are amalgamating and publishing morereasonably.
"Anything to keep the paper in print and keep news going out to members of the community-that's crucial for sure," hesaid.
Newspapers are primarily advertising-driven and COVID-19 has reduced those revenuesimmensely.
Merrell says the only way newspapers can publish is sellingads.
"The problem with COVID is it is laid low so many services, particularly in the service industry, restaurants (and) bars," hesaid.
"They're really operating at a much reduced capacity, which means they might have been buying those ads on a regular basis, but now they're a cause for concern aswell."
Merrell explained, "In communities these newspapers serve-where it's vitally important and members of the community see that it is-I think there is still longevity there with newspapers that are really focused on keeping that forefront with theircommunities."
"We're not like a governmententity.
We rely on a private sector just like you as a business and we need to have your support in order to continuehere."
Cypress-Medicine Hat MLA Drew Barnes weighed in on the current state ofnewspapers.
"Local newspapers are very important for providing entertainment, information and the watchdog that citizens and tax payers need on government, business and activities in the community," saidBarnes.
"Like so many things, technology and change, has made things tough in the newspaperindustry. But what citizens need is a strong, vibrant independent weekly and daily newspaperindustry."