The Trews, Serena Ryder to headline CP's Holiday Train at Home' virtual concert
Posted on December 1, 2020 by Sunny South News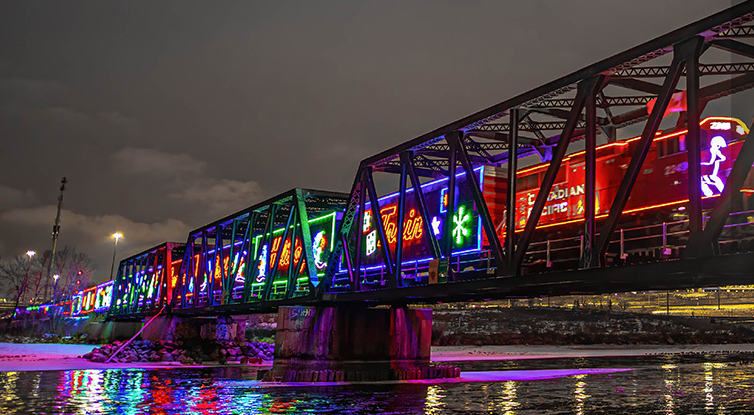 By Stan Ashbee
Southern Alberta Newspapers
Due to the COVID-19 pandemic, Canadian Pacific (CP) will donate to food banks in communities along its network and host a virtual concert in lieu of its regular Holiday Train program.
"The modified program will draw attention to food security issues, while ensuring donations go to all food banks that would ordinarily receive them, including those that typically host a Holiday Train event in alternating years," it was stated in a recent media release.
CP President and Chief Executive Officer (CEO) Keith Creel stated in the release it's an honour to continue to donate to communities across the network this year, even if the train itself will not run. "The spirit of the Holiday Train program and the Christmas spirit will carry on this year through our virtual concert. We will have the Holiday Train rolling again spreading Christmas cheer, as soon as it's safe to do so." CP launched the Holiday Train in 1999, and every year since it has travelled across Canada and the northern U.S. raising money, collecting food and drawing attention to the important work of local food banks. In its first 21 years, the train has raised $17.8 million and collected 4.8 million pounds of food for local food banks in communities along CP's network.
Live music has always been an integral part of the CP Holiday Train tradition. To maintain that tradition, CP has produced a benefit concert.
Canadian acts Serena Ryder and The Trews will headline CP's 2020 "Holiday Train at Home" concert, which will stream on CP's Facebook page Dec. 12. The event will raise money and awareness and help local food banks collect much-needed donations. The Dec. 12 concert, scheduled for 6 p.m. MT/8 p.m. ET, will also feature performances by JoJo Mason, Logan Staats and Kelly Prescott.
CP Holiday Train fans will be able to view the concert by visiting facebook.com/canadian.pacific at the show's start time. An archived version of the show will remain on the page for later viewing.
John-Angus MacDonald, guitarist from The Trews, said the band really enjoyed being a part of the Holiday Train performance. "Having done a 60-stop tour on the Holiday Train, a couple of years back, it felt like coming home stepping back onto that stage." MacDonald noted the band only prepared a few songs for the virtual show, since they're only one of the many artists on the bill. "We did two of our latest releases, as well as an old classic of ours and a couple of Christmas tunes. You'll have to tune in to find out exactly what we played," MacDonald teased.
According to MacDonald, the virtual concert opportunities have been rescuing the live music industry in this difficult and unprecedented year.
"We're grateful for them — but they will never come close to matching the excitement and energy of a real show. We miss those very much. As far as preparation is concerned, it's more like rehearsing for the studio, in that, you're most focused on the particulars of the music and less with interacting with an audience," said MacDonald.
This can be a very trying time of year for many people and trying to ease some of that burden, especially when it comes to feeding hungry people, is one of the most worthwhile things MacDonald can think of. "We got involved because we were supposed to do a leg of the actual train again this year — but that got blown out due to COVID-19. This was offered to us instead and we jumped at it. The folks involved in this initiative are very good people, so it was a no-brainer."
Since the pandemic hit Canada and the rest of the world, MacDonald added, the band has been trying to fill their time with creative pursuits.
"We've written a bunch of new songs and have put a bunch of work into finishing our next record. We've also done a lot of live streaming and what not — which has been a nice way to keep connected with our fan-base in the absence of real shows. One thing to keep in mind when watching the upcoming holiday train show is how cold we are! We're performing outdoors on the side of a train and it's minus 10. It's particularly challenging for guitar players like me," MacDonald pointed out.
MacDonald believes this year, more than most, it's important to support food banks and other local initiatives to help those in need.
"People less fortunate have been hit particularly hard. If you're in a position to help out, I highly recommend you contribute what you can. It can be a brutal time for many," said MacDonald.
To fans living without live music, in lockdowns and trying to make sense of the COVID-19 pandemic, MacDonald said hang in there! "This is the home-stretch. We're as impatient as everyone else to get back at it — but, like the final hours of a long drive, the end can feel the longest. Hang in, we'll get through this." MacDonald said the band is playing their first ticketed headlining live stream event from the Danforth Music Hall in Toronto Dec. 4. "We're very much looking forward to being back to full-sound and lights and a full-length show. You can snag tickets by visiting our site or socials."