Petition for municipal inspection sent off
Posted on December 15, 2020 by Sunny South News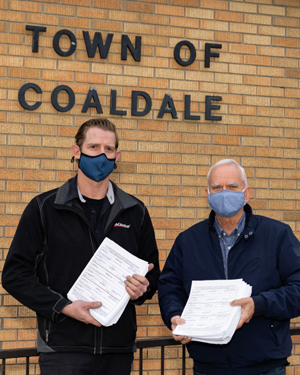 Sunny South photo submitted by Clive Schaupmeyer
By Nikki Jamieson
Sunny South News
A Coaldale group has collected enough signatures in for their petition for a municipal inspection.
Citizens for a Better Coaldale said they have collected more than 2,300 signatures for their petition, and the petition is due to arrive at the office of office the Honourable Tracy Allard, Alberta Minister for Municipal Affairs, on Dec. 15.
While group spokespersons Jason Beekman and Jack Van Rijn are pleased with the support from Coaldale residents for the petition, they said in an email to the Sunny South News that they were disappointed that the petition was necessary.
A municipal inspection aims to determine whether the municipality is being governed in an irregular, improper or improvident manner, and things that may trigger the inspection include fiscal improprieties, dysfunctional council or administration, toxic workplace and improperly awarded contracts.
According to sec. 571(1) of the Municipal Government Act, a municipal inspection can be initiated on the minister's initiative, by request of a council, or by petition from electors of the municipality constituting at least 20 per cent of the population. The Town of Coaldale had declined a request in October to initiate a council-sponsored municipal review, and last month, the town announced they were engaging a consultant to conduct a Workplace Culture Audit, which concluded Dec. 4. After the town declined the request, CfaBC began a petition to have one done.
"Many residents feel town council and administration have completely gone off the rails, and I agree there is a serious disconnect between Coaldale town council and Coaldale residents. Town council should utilize public input to decide which major projects to pursue and not forcing decisions upon town taxpayers that most people disagree with," said Beekman.
Concerns over major spending on projects by the town with decisions being made with no input from the public as a reason or a lack of communication from the town over major projects, such as the location of the new rec centre/high school and Civic Square, had prompted the need for the petition, according to the group. Beekman said it is also troubling that when people do voice concerns, "they feel they are being discredited as a small group of troublemakers and are disregarded by the town".
"Many residents feel major decisions are made, ignoring and even intentionally circumventing known public input and opposition," said Van Rijn. "We want to make it clear, we are not against Main Street improvements, the new recreation centre or the new high school, we support them. What we are against is the way town council ignores public input and manipulates the project outcome of these major decisions often against the known preferences of town residents."
The final petition count is 2,334, more than the number of people who voted in the town's 2017 municipal election. A total of 2,265 ballots out of 5,780 eligible voters were cast in the 2017 Municipal Election for the Town of Coaldale, for a 39 per cent voter turnout. While the group only needed to collect 1,834 signatures, they hoped to collect more in case some signatures were declared invalid due to issues like incorrect address, spelling errors, or people signing not aware they are eligible to vote in Coaldale. They had set a goal of 2,000 signatures, but after conversations with Municipal Affairs, they increased that to 2,200. Once the signatures are validated, the minister will review their concerns before deciding whether to proceed with an inspection.
Beekman and Van Rijn thanked the more than 25 volunteers and the individuals who made donations to cover the cost of the petition for helping make it happen.
"Citizens are welcome to make that request of the province; we as a council considered the matter, and decided that given the lack of evidence provided to justify such a significant expense, that pursuing an inspection simply wasn't a responsible use of taxpayer dollars," said Mayor Kim Craig, responding to a request for comment. "We as a council are committed to using the time we have left this council term to fulfill our strategic mandate and to serve the citizens who elected us to office. We are in receipt of the final report of the workplace culture audit and plan to release the results in short order."