PPE subject of concern at town hall
Posted on December 30, 2020 by Sunny South News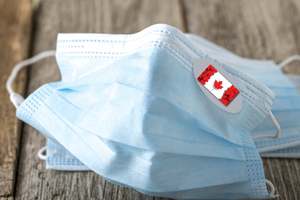 By Nikki Jamieson
Sunny South News
Appropriate PPE use against COVID-19 in Alberta was a key subject at a recent telephone town hall.
In a telephone town hall on Dec. 8, MLA Doug Schweitzer, Minister of Jobs, Economy and Innovation, was joined by Dr. Marcia Johnson, Deputy Chief Medical Officer of Health, and MLA Martin Long, Parliamentary Secretary for Small Business and Tourism, to discuss new COVID-19 restrictions and how businesses can operate safely during the pandemic, and answered some questions regarding personal protective equipment (PPE) use.
One attendee asked if there was guidance for appropriate PPE to use in a workshop setting that would prevent a close contact classification in the event of a positive case. Johnson said you should be wearing masks at all times if you are indoors, adding that when indoors you shouldn't have issues with fogging with any eye protection you may need. Staff would have to be trained in how to wear the PPE efficiently and wear it all the time.
"You should be able to work in close proximity if you're following all that, but only if, when you really have to," said Johnson. "If you're business is set up, like people don't have to be just right beside each other to do the tasks, if you don't have space to spread them out, then you really have to figure out how they can be spread out, either through dividers or sheds or whatever."
However, if employees are up close to each other all the time, they will be considered a close contact. If you have a safety program that can figure out or develop some reasonable PPE that employees can access and get trained on, and they are supervised regularly to ensure they are following the rules, then Johnson said it might be possible, although it would be "very difficult".
One attendee asked, with the mandatory mask mandate inside buildings and non-construction sites, whether there will be anything from the government to amend contracts with Alberta Infrastructure or government projects to help cover the additional costs of PPE. Schweitzer noted that for those who qualify for the relaunch grant, it could be used to cover the cost of PPE. He would have to know more about the nature of the agreement and the contractual obligations that arise from it to know what costs would or would not be covered.
One attendee asked what the plan was for dealing with anti-mask groups was, while ensuring that bylaw officers are protected and not causing additional burdens on our health care system due to backlash and possible protests.
"This is one of those questions where, you know, no matter how you tell people to take this thing seriously to keep people healthy, there's a certain part of society that thinks this is a joke, they don't think it's real, they don't think this is required," said Schweitzer. "As much as I disagree with them, they have a right to protest. If they're offside the health restrictions right now though they might get a ticket, and if I were them, I'd recommend if they were going to protest, space out, wear a mask. But they don't necessarily want to listen to that, so if they want to do that, they're going to face tickets, so that's their decision to make. We do live in a society right now where we all have charter rights and religious freedoms and freedom of assembly, and take a look at where we are; we can't visit our neighbours, we can't visit family outside of our house. So, it's all about what, we're trying to get balance where we can with our measures, and there's a group of society that doesn't believe that should be happening, and I respect their right to have a different view then myself, but again, you go out and do this, you're facing a fine."
According to the province, not following the mandatory restrictions could result in fines of $1,000 per ticketed offence and up to $100,000 through the courts.