Tenth Annual Coaldale Family Fun Run: 10 years running
Posted on April 13, 2021 by Sunny South News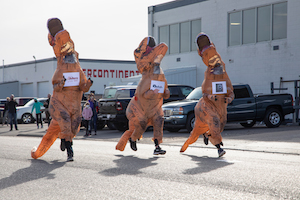 Photo submitted
Coaldale Christian School is pleased to announce a re-boot of the 10th Annual Coaldale 5K Family Fun Run. This event was cancelled last year and as health restrictions continue, adaptation becomes key. In light of this, the Fun Run is hosting a virtual race this year.
What is a virtual race and how will it work? Rather than having one single race day, participants will use the week of April 19-26 to run/walk the 5K with either their families and/or cohorts and submit a personal time via a website. Because this race is going virtual, this means anyone from anywhere can take part! This event remains a great way to encourage physical fitness and healthy outdoor activity, while enhancing both family time and community camaraderie.
The past decade has seen an astounding amount of support for this event from both participants and sponsors. The main goal of the Fun Run is to bring cohesiveness to the Town of Coaldale. This applies to businesses and community members alike.
Town of Coaldale Mayor Kim Craig readily endorses this event. "We are elated the Fun Run organizers were able to plan a virtual version of this well-attended and highly anticipated community event.
We hope to see many families and participants out this year embracing the challenge and enjoying the outdoors."
In the spirit of going virtual and to celebrate 10 years running, organizers plan to inject a little more "fun" into Fun Run via engaging videos. The main goal of these videos is to shine a spotlight on the many businesses in the Town of Coaldale – while hosting some fun competitions. "We have received great support from our sponsors who have been very willing to engage with our crazy shenanigans'stated Melanie Harthoorn, race co-ordinator. "With all that's going on in our world right now, tensions have been running high. It is our hope this event and these videos will give us a fun distraction. Kids especially can use something else to focus on right now." Since getting outside, getting active and having fun is great for kids, both physically and mentally, the School Team Challenge has once again been initiated. Students are encouraged to get their friends and family to register under their school's team. The largest Coaldale school team will win $1,500 toward their athletic program, courtesy of school sponsors. Students are also eligible to win one of eight $100 gift cards.
Businesses are not to be left in the dust and can get in on the action by participating under the Corporate Team Challenge. Prizes are up for grabs for the fastest and largest teams.
Funds generated by this event are put towards community enhancement projects. This year's funds will be held in reserve for upgrades to Pinnacle Park in Coaldale. This includes the resurfacing of the general field, so kids can participate in recreation sports safely. Conversion of a dilapidated tennis court into a street hockey arena is also included in the scope of this project. In addition, the Fun Run will also be donating $2 of every entry to Segue Home for Women, a division of Streets Alive Mission. Segue is a program offering a secure and safe place, where women can reclaim their lives and their independence.
Coaldale town council is encouraged when volunteers get creative and seek out alternative funding sources to help with improvements in the community.
"Town council and staff are always happy to be a part of this event, as it supports a great cause and important projects," stated Craig.
To register for this event visit racepro.ca/coaldale. Youth ages 15 and under can sign up for just $10, adults for $20. Each registration fee includes a race package filled with coupons, a "10 Years Running" commemorative booklet and a Fun Run buff. Prizes totalling $3,000 will be given away daily. Medals for the top three finishers in each category will also be awarded.