Patio season underway at KC's Pub
Posted on May 4, 2021 by Sunny South News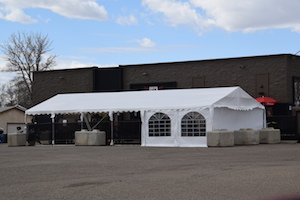 Photo by Nikki Jamieson
By Nikki Jamieson
Sunny South News
The patio at KC's Pub is open and ready for hungry customers.
Coaldale Inn owner Ken Schmidt said the establishment was thrilled to be able to offer their customers a spot to eat at the restaurant, in addition to take-out.
"We needed to wait until the weather would comply for the most part. There may be some days that won't work out so well, but we've made it so it can be pretty comfortable, even in cooler or inclement weather," said Schmidt, last Thursday.
As current COVID-19 public health restrictions don't allow for indoor dining, the patio offers an alternative to take-out for diners. This year, the local eatery added a patio area covered tent with heaters to allow for diners, when the weather isn't quite so nice outside, so people can still enjoy the space, as well as accommodate diners if the main patio is full.
Schmidt says the business is following the restrictions "to the letter," with ample space between table and chairs, and signage for mask use and updated regulations. Staff wear masks the entire time while in the building, and sanitize everything after each guest use. The establishment has consulted with the public health inspector to ensure full compliance, as well. For those who prefer a take-out option however, KC's also offers curb-side pick-up.
KC's is providing full food services from noon to 8 p.m., including takeout, and can remain open and serve alcohol until 10 p.m. Schmidt cautioned this may change if the current business environment does.
"I have always believed in consistency, no matter the circumstances – but in this new business environment, we are trying to adapt, as we go along and ask our customers to be patient," said Schmidt.
"Our mantra has always been, if we have customers, we will stay open. Because of limited kitchen staff, we will be closing one or two days a week – we will base this on the weather, but plan on keeping our customers updated on social media."
Schmidt says the business is offering an "abbreviated menu," that allows staff to service the food their customers enjoy in these uncertain times, for both patio dining and take-out, and will be expanding it when the timing is right.
"We have to give a shout out to some very loyal and fantastic customers who helped make the expanded area possible in such a short time."
"And to the Town of Coaldale for their continued support in also making this happen quickly."