Take a virtual walk against MS May 30
Posted on May 18, 2021 by Sunny South News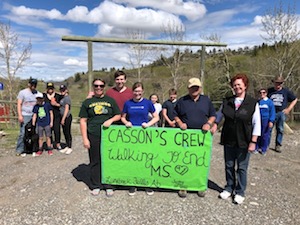 (Photo Submitted) Casson's Crew take part in the MS Walk in 2020 in their cohorts.
By Nikki Jamieson
Sunny South News
The annual Jayman Built MS Walk is going virtual again this year.
For the second year in a row, due to public health restrictions, the walk will be held virtually – with a live stream rally May 30 at 10 a.m., as part of Multiple Sclerosis Awareness Month.
While participants cannot gather in one spot for the walk, they are still encouraged to walk wherever they can.
"We are encouraging people locally to walk wherever they like to; in their backyard, in the coulees, anywhere they'd like to they feel comfortable and following the protocols, and anytime this month," said Jeanene Casson, the chair of the Lethbridge chapter of the MS Society, who takes part in the walks – as part of the team Casson's Crew.
Casson's daughter, Richelle, was diagnosed with MS in 2004, and Casson's Crew, a team made up of family and friends, have been taking part in the walk for the past 14 years to raise funds on her behalf.
Casson says they will be out and about again this year, albeit virtually, to do the walk, calling it their passion.
"We've walked in each of the Lethbridge area's walks since 2006. We've raised over $265,000 for the cause," said Casson. "Most of the money raised goes towards research, and that research also helps people with MS in some of their daily needs."
"The MS Walk is a meaningful way for communities across the country to come together to show support, spread awareness and raise funds," says Becky Mitts, senior director of community fundraising for the MS Society of Canada. "No person living with multiple sclerosis should ever have to walk alone."
In addition to the walk being virtual this year, there are also special features, such as the Team MS Party Pack, containing event decorations – such as balloons and streamers to help bring the event to life.
Casson said they're also trying to get local restaurants to participate in a Savour For MS event in October.
The MS Walk is a national community-driven event to build awareness and raise much-needed funds that will help get closer to a world free of multiple sclerosis.
Multiple Sclerosis is a chronic autoimmune disease that can affect vision, memory and mobility. MS is the most common neurological disease among young adults, with 60 per cent of adults with MS between 20 and 49 years old.
Canada has one of the highest rates of MS in the world, with an estimated 90,000 Canadians living with the disease, and 12 Canadians are diagnosed every day.
To join the walk or to donate, visit mswalks.ca. Participants are asked to closely monitor information on CO-VID-19 from the Public Health Agency of Canada and their local public health authorities.