RCMP Staff Sgt. Henry retires
Posted on June 9, 2021 by Sunny South News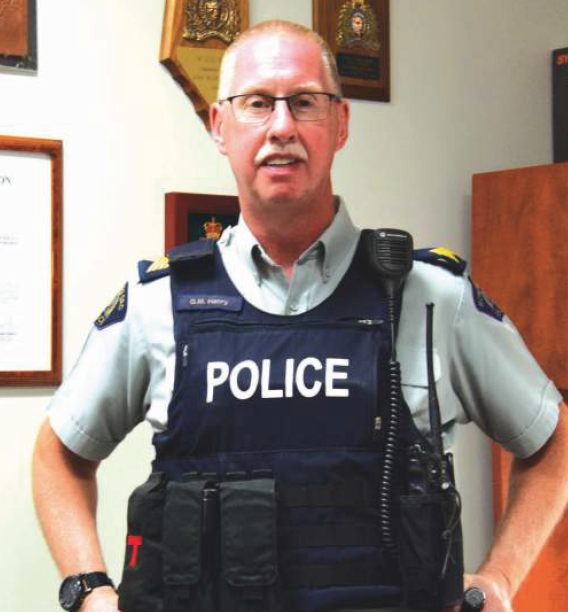 Glenn Henry
By Nikki Jamieson
Sunny South News
After 35 years with the RCMP, Coaldale detachment commander Staff Sgt. Glenn Henry has retired. Henry's last day with the RCMP was June 2, and Henry said it was a pleasure to serve the community.
Henry started his career with the RCMP in Saskatchewan in 1985, before heading north to Hay River, Northwest Territories and then Yellowknife, NWT.
In Yellowknife, he did a secondment to the federal justice department, where he taught a firearm safety training course for about two years across the region, which became necessary for people to take under the then-new Firearms Act in 1998.
"In the Northwest Territories at the time, there were no courses, so people needed the firearm safety course to get their licences, but there was no course available, so they could get their licence," said Henry. "I was travelling the north, recruiting volunteer instructors, reaching the communities, supplying training materials, and when I left, we had 199 volunteer instructors. We had firearms training kits available, and were allowing people to take the firearms safety course, so they could get their firearms licence. It was kind of a nice move away from traditional policing."
Henry called it a great experience, as he was able to travel throughout the Northwest Territories and Nunavut, and as he had brought his uniform with him, he "helped out" at the local detachments where he could.
In 2001, he spent a year working on the U.N. mission in Kosovo, where he did policing duties and trained new police officers.
"It's very humbling to be able to go to a country that is war-torn, a country in conflict," said Henry. "I think one of the biggest takeaways I've received from this mission, is coming back to Canada, and realizing how well we have it here.
"There's so much we take for granted, whether it's health standards, road standards, building standards."
Following his time overseas, he returned to Yellowknife before being transferred to Edson, Red Deer and Chestermere.
When the RCMP took over the policing contract for Coaldale, Henry came to Coaldale in September 2015, where he was busy setting up the department in time for the Jan. 1, 2016 start date. The RCMP had a rural detachment based out of the Lethbridge building, but when their Coaldale service started up, they opened a storefront office in Coaldale to operate out of.
"There were no vehicles here, there was no staff, there was no infrastructure, there was nothing. With the help from the town, we had to hire our support staff, we had to acquire vehicles, we had to acquire the equipment, basically to double our size to take on the Coaldale contract," said Henry.
"It's very unusual (the RCMP) assume new contracts, so for me, in particular, it was a new experience. Within our own RCMP detachment's structure, we experience growth within our detachments and our new members. This just happened to be a very short-term, large growth for us."
With his retirement, Henry is looking forward to spending time with family and decompress, and plans to stay in the community. He is also looking forward to the completion of the new detachment building in Coaldale, which is set to open later this year. Sgt. Kevin Wright from the Raymond RCMP will be serving as the interim detachment commander for the Coaldale/Picture Butte RCMP until a permanent replacement is found, which is expected to take a few months.
In an earlier version of this article, Edson, Alta., was incorrectly spelled, and Yellowknife was not placed in the NWT. These have since been corrected and the Sunny South News has apologized for any confusion this may have caused.