Coaldale 2020 chamber awards celebrates community excellence
Posted on July 13, 2021 by Sunny South News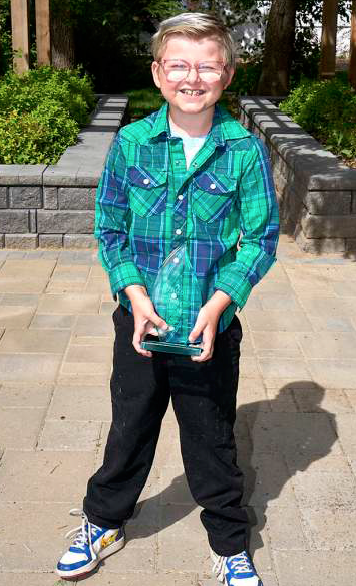 Youth Citizen of the Year award winner for 2020 Gavin Besaw
By  Laura Balanko-Dickson
Sunny South News
In 2021, the Coaldale and District Chamber of Commerce handed out awards for its 2019 recipients and the 2020 winners. Due to the pandemic, the awards were cancelled in 2020 to recognize the 2019 winners.
This year's 2020 Business of the Year award went to Grizzly Ridge Development, owned by Dustin Hayes. Hayes and his company received the award for their commitment to sponsorship, good business ethics, excellent customer service, courtesy, knowledge and presence as a distinguished progressive business in the community.
Five years ago, when Dustin started building new homes in Coaldale, he experienced first-hand the great sense of community Coaldale has to offer. This motivated him to set up shop and place down his roots when he moved his family to the Cottonwood area.
As a dependable, efficient and hardworking person, Dustin takes pride in all of his projects. His personality shines through when working with either clients or industry professionals. He goes that extra mile, delivering quality services to clients, striving to exceed expectations. Supporting the local community is also important to Dustin and his family and this is evident with his sponsorship of the Coaldale Cobras.
Dale Fujita is the 2020 recipient of the Coaldale Citizen of the Year award. He received this award because of his participation in community activities and history of community service.
Dale was born in 1945. His family moved from Raymond to a Coaldale farm in 1956. Because of his large family – four brothers and four sisters – Dale needed to quit school to help out with the family.
At 18, his strong work ethic was already evident. In addition to his responsibility on the family farm, he also drove a school bus and worked evenings at Ted's Auto Body. In 1969, after working for three years for Ted's Auto Body, Dale purchased the business and renamed it Kustom Auto Body. He also traded in the single life, and at the age of 24, was married to Carol. They went on to have two sons, Jeff and Kevin.
To say Fujita and the Kustom Auto Body business have been supportive to the Coaldale community would be an extreme understatement. A review of the fire department's history reveals not only did Fujita serve as a volunteer firefighter (1970-1976), but employed numerous other volunteers. Fast forward to today, Kustom now has three generations of the Fujita family involved in the shop. It also comes as no surprise to find three generations of Fujitas involved in the fire department.
Female Athlete of the Year for 2020 went to Kaci Abrey. Abrey earned the title of Athlete of the Year because of her passion for sports, respect, commitment to ethical sport, as well as a high level of skill, leadership and performance.
Male Athlete of the Year for 2020 went to Brenden Duda. Like Abrey, Duda earned his title of Athlete of the Year because of his passion for sports, respect, commitment to ethical sport, as well as a high level of skill, leadership and performance.
Community Artist of the Year for 2020 went to Amy Allred. Allred received this award because of her demonstrated integrity, inclusiveness, co-operation, respect and drive for excellence in arts and cultural advancement. Moreover, she is involved in a cultural group organization in Coaldale, developed personal growth and promoted a positive image for the Coaldale arts community.
Allred is a singer and songwriter, who not only performs to audiences around southern Alberta, but is also passionate about sharing her love of music with the community.
Gavin Besaw received the Youth Citizen of the Year award for 2020 because of his significant contribution to the community of Coaldale through his $300 donation to the Canadian Cancer Society for his walk in the CIBC Walk for The Cure.
Gavin has a love for all kinds of animals. Gavin and his mother Cheri Beatty, provide first-rate care for rescue animals until they find their forever homes. Gavin's soft and caring heart has received recognition from the Town of Coaldale when he was highlighted for the many hours spent colouring paper Easter eggs to cheer up seniors at the Sunny South Lodge.
Since the Canadian Cancer Society needed to cancel the CIBC Run for the Cure, Besaw decided to do his own walk and raise $300 walking five kilometres all over Coaldale. He was given an award from the Canadian Cancer Society for all of his hard work.