Federal funding pursued for Highway Ave revitalization
Posted on July 28, 2021 by Sunny South News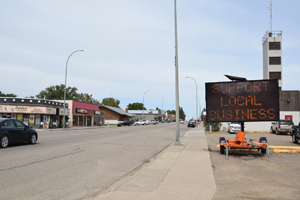 Sunny South photo
By Nikki Jamieson
Sunny South News
Picture Butte town council is pursuing a federal grant to finish beautifying its Main Street.
Administration had presented a request for decision for the Canada Community Revitalization Fund during their regular July 12 meeting. According to the accompanying report, the federal government had announced the CCRF last month, and were accepting applications for funding. The town is eligible for funding, and could be provided for up to 75 per cent of the cost, up to $750,000, and requests for funds under $500,000 may be given priority.
Priority may also be given to projects that are shovel ready; bring in other partners to leverage project funding, and those projects that require a federal contribution of only 50 per cent; of a smaller scope where the project will be completed within the required time frame to ensure the program benefits will be shared broadly; help communities rebound from the effects of the pandemic and contribute to the re-animation of communities, towns and cities; demonstrate measurable direct or indirect social-economic benefits; and encourage the participation of under-represented groups and take into consideration the unique challenges of rural and remote communities.
Priority will also be given to the type of project, in the following order: revitalizing Main Streets or downtown core; improving or re-inventing outdoor spaces; reducing environmental impacts, including greenhouse gas emissions; and increasing accessibility to public spaces for everyone to enjoy inclusive of people with disabilities.
Administration suggested two projects the town could apply for: extending revitalization work on Main Street to 3 Street North – at an estimated cost of $300,000, and extending the trail from 5A Street to Rogers Avenue at an estimated cost of $300,000. The town can only make applications for one project. Neither of the projects are currently budgeted for in the town's capital spending plan.
Both Mayor Cathy Moore and Coun.
Henry de Kok voiced support for the Main Street project, with de Kok asking what the scope of the work would be.
Director of Operations Chad Parsons said while it seemed like the town had completed the work halfway to that point linearly, it was "quite a bit more" work to continue to 3 Street North. There were also a number of items included in other budgets, such as water and storm budgets, that were completed at the same time.
"To be fair, you're not wrong that it is a little higher than you might think, but I thought if I'm going to quote this I want to air on the side of, its a little high, and we get a little bit more than it's a little less, and it turns out to be more," said Parsons.
When asked about including lighting, Parsons said he wasn't sure about the grant limitations, and the town would have to apply with Alberta Transportation to get permission to do so. Coun. Teresa Feist noted a lot of people had approached her about the trail, and while they have already started Main Street and people are commenting on the jut-outs, she would like to see the town do the trail. Moore pointed out that could be a fundraiser for the town, but the town should finish the downtown core.
Council passed a motion to approve the application for funding for the Canada Revitalization Fund for the Main Street Revitalization Project up to 3 Street North.