'World-Class' facility set to provide economic and educational benefit
Posted on August 24, 2021 by Sunny South News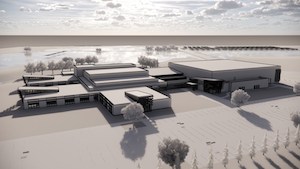 Image submitted by the Town of Coaldale
By Laura Balanko-Dickson
Sunny South News
According to Dexter Durfey, secretary treasurer for the Palliser School Division (PSD) since 2017, the new school and recreation centre that is going in on 16 Avenue is one of "the most comprehensive and cooperative" partnerships he has ever seen on a project like this.
While he does understand that some may have their misgivings about the new development, he thinks there should be more of a focus on the benefits -both educational and economic -this space has to offer to the community. Moreover, he says this "worldclass" space will not only benefit students, but the community.
"As far as partnership goes, like I say I've done this for 30 years, I've done this with several southern Alberta communities like Cardston, Magrath, Stirling, (and I) just finished a school Project identified as in Nobleford, finished one in Iron Springs -and I can tell you this is the most comprehensive and cooperative partnership that I've ever seen," said Durfey, "It's a great partnership. We have paired well together to make sure that we have all the efficiencies and the economy of skill that we can possibly have. That's why this project is the only project on the go right now in southern Alberta."
Aside from his perspective on the partnership between the Town of Coaldale and PSD, he wants everyone to understand the new school will provide adequate space for Coaldale students, and free up some of the traffic congestion in the area. Additionally, Durfey thinks the learning opportunities for students of Coaldale will be "as good as anywhere in North America or in the world."
But, Durfey is not the only one to share an opinion like his. Russ Tanner, director of recreation and community services for the Town of Coaldale says it's commonplace for a high priority by community to plan for a certain amount of "cost recovery" on developments like arenas, pool, gymnasiums and community centres because it is taxpayer money.
Moreover, Tanner said "This facility, because it's dry sport, because it doesn't cost as much as a pool or arena to run, because we got partnerships with the school division, and with Twisted Steel Fitness and the future daycare provider. Because of the current business plan for this facility, it will actually improve our cost recovery in the soft services, community services of Coaldale," adding, "Now that the school and the town are working together (on the new school and rec centre) there's going to be major efficiencies and economies of scale realized."
Aside from the economic benefits of the new school and rec centre, Durfey says there will be plenty of educational opportunities available to students of the new facility.
"There's going to be theatre in there,
Infrastructure Master Plan there's going to be fine arts, some of the trades and a commercial kitchen, learning commons so there's lots of space to work together on projects," said Durfey. "I think that's where we should focus. Exciting things are going to happen in that school."
"It's world class." Again, Durfey is not the only one to think the said facility is world class. Tanner "totally" agrees with Durfey's statement.
"I come from a place where, the JBS Canada Centre in Brooks is second to no facility in Calgary," said Tanner. "I look at this facility and it's design and it's partnerships, and you know what, yeah it is world-class, and it's going to change people's views on the high school of Coaldale, the community of Coaldale, or the sports in Coaldale, whether it's soccer, volleyball or basketball, all the club sports, it's going to inject or springboard so much excitement, in so many different aspects, because of the design of the building."