Cobras wrap up 2021 portion of CAHL schedule
Posted on December 29, 2021 by Sunny South News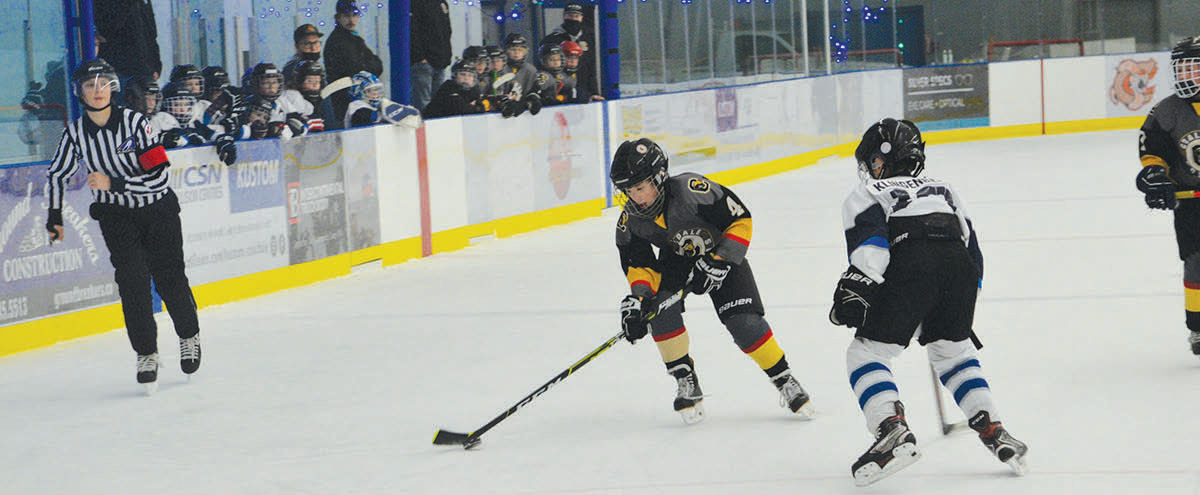 By Cole Parkinson
Sunny South News
Before the Christmas break began, Coaldale Cobra teams hit the ice for Central Alberta Hockey League games as the 2021 potion of the season met its end.
U11 Tier 3
The U11 Tier 3 Cobras had a busy weekend with a pair of road games on tap.
On Saturday, the team travelled to Irvine and took care of business with a 10-3 win. Rudy Wojszel had a hot stick as he chipped in with five goals while Travis Jackson had a hat trick, and Nixon Noble and River Pollard had singles. Alistair Poettcker had a pair of assists, while Nova Mulder and Kaelan Hoffman had one each. Elliot Hass got the start in the net and made 20 stops.
The team then travelled to Redcliff the following day, but no game sheet was available Monday morning.
After the Christmas break, the team returns to the ice on Jan. 8 (in Taber) and Jan. 9 (at home against Raymond).
U11 Tier 6
With two games before the Christmas break, the U11 Tier 6 team had a pair of home games to round out 2021.
On Saturday, Chestermere made the trek down to Coaldale that resulted in a 6-0 win for the home team. Jackson Batkin had a hat trick and one assist, Ryan Scriven- Hirsche had a pair of goals, Foster Hurt had a single tally, while Peyton Rowley and Drake Labelle had an assist each.
On Sunday morning, Redcliff was in town to face the Cobras, but no game sheet was available Monday morning.
When the calendar flips to 2022, the U11 Tier 6 Cobras hit the ice for a pair of games on the road against Siksika on Jan. 8 and 9.
U13
The U13 Cobras had one final game in 2021 on Saturday night that saw them travel to Fort Macleod. After a good battle, the Cobras would fall 5-2. Ryley Kauenhowen would score both goals for the Cobras. Colton Peters got the start between the pipes and made 27 saves.
Next game action for the U13 Cobras comes on Jan. 8 when they travel to Claresholm and Jan.9 when they welcome in Foothills.
U15
With a lengthy winning streak still intact, the U15 Cobras had two final games in 2021.
On Saturday, the team travelled to Pincher Creek and skated to a 5-3 win. Killian Erick had a goal and two assists while Mason Van Ee had a goal and an assist. Layne Kyle, Lane Broderson, and Dalton Damen had a goal each while Grady Knoblich and Kaede Wakefiled chipped in with an assist each. Logan Van Der Leest made 23 stops in net for the Cobras.
The team also welcomed in Nanton on Sunday morning, but no game sheet was available on Monday morning.
Following the Christmas break, the U15 Cobras return with a pair of road games on Jan. 7 (Lethbridge) and Jan. 9 (Pincher Creek).
U18
Only one game was on the U18 Cobra schedule this past weekend when they welcomed in Airdrie.
In a tightly contested matchup, the Cobras would skate to a 3-1 win in their final game of 2021.
Tyler Wiebe would pot a pair of goals for Coaldale, while Ryden Yackulic had a single. Kyle Harrington, Kade Lyckman, and Kevin Erick each found the score sheet with a single assist. Brenden Duda was spectacular in net as he turned 43 of 44 shots away in the win.
The U18 Cobras will return to the ice on Jan. 9 when they travel to Pincher Creek.