Picture Butte and Coaldale firefighters face challenges with extreme cold
Posted on January 11, 2022 by Sunny South News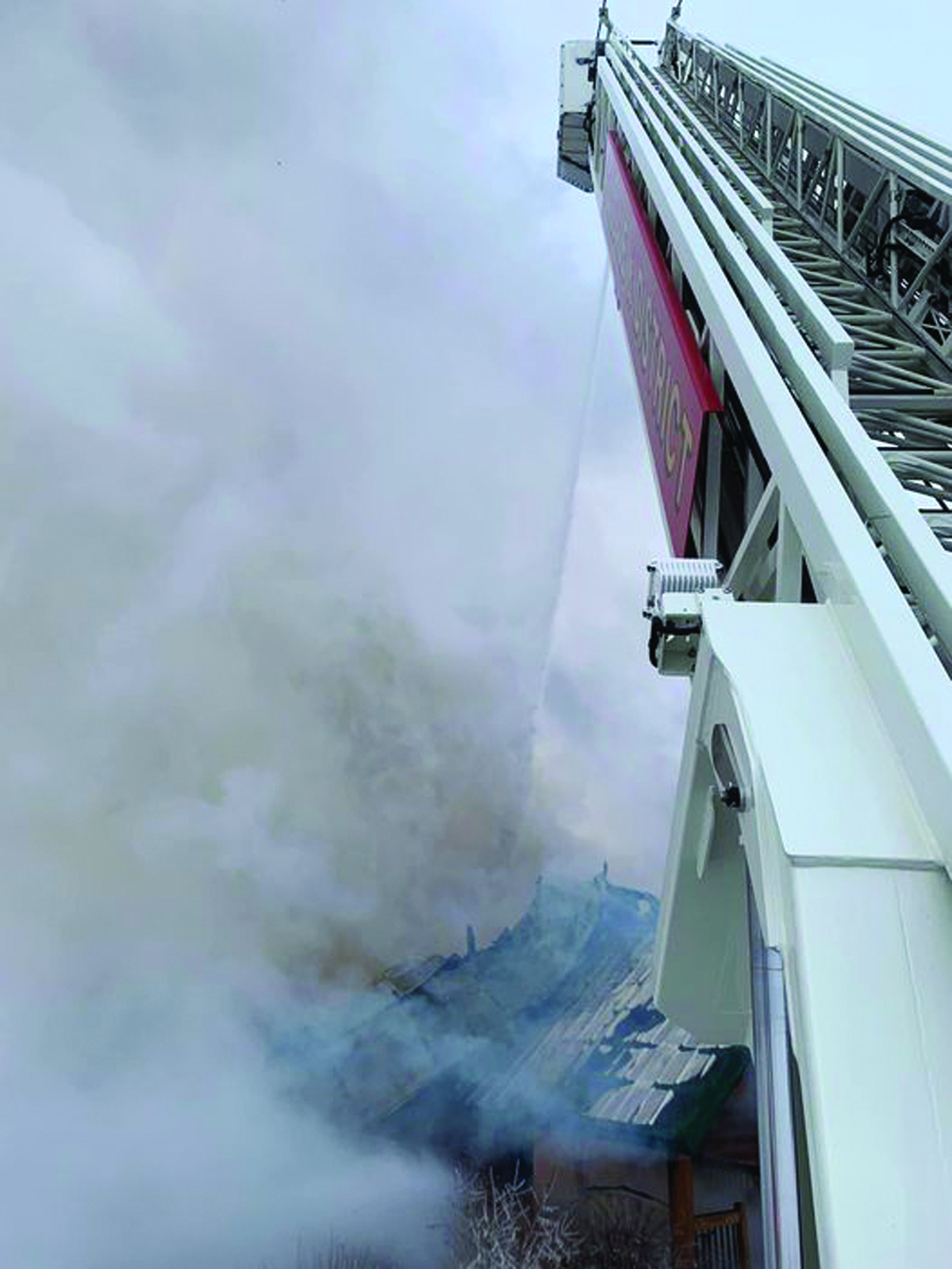 CDES responded to a large structural fire in Lethbridge County, on Boxing Day. Picture Butte and Lethbridge fire departments provided mutual aid on-scene.
By Erika Mathieu
Sunny South News
The last few weeks of blistering cold has posed significant challenges to emergency response teams and firefighters across southern Alberta. Temperatures dipped below -30C, while wind chills made some days feel like -40C. Coaldale Fire Chief, Kevin McKeown and Picture Butte Fire Chief, Frank West said that the cold weather can affect the efficacy of equipment if proper precautions aren't taken.
"Anytime you are working in sub-zero temperatures there is always a risk of equipment freezing up. However, the colder it gets the higher the risk and the less time it takes for equipment to malfunction. When it is -20C or below it doesn't take long for things to freeze up." McKeown explained.
Picture Butte Fire Chief, Frank West added, "It's just so hard to keep that water from freezing up and keep the truck from freezing up. It just becomes a whole other task we have to accomplish, in addition to trying to help the public with whatever emergency we have been called out to when we're also spending extra time and attention just keeping our equipment running."
Picture Butte council recently passed the capital budget for 2022, which includes plans to upgrade the current fire station, funded over a 30 year term, with construction set to begin in spring 2022. In the meantime, extreme cold further complicates the department's ability to maintain and prepare equipment.
"One of our biggest hurdles that we're up against right now is our lack of space in our fire station, we've kind of outgrown our existing building and so when we have a fire we end up having to use the street out front of our fire station to clean and dry our hose and put it back on the fire truck, and as you can understand, spraying water and cleaning and washing things when its -40C like it is right now is a challenge," said West adding that,"It creates not only a hardship for the firefighters to complete the tasks but also creates a giant ice mess we have to deal with. The public works department has to throw salt and sand on it and try to clean up all the ice we create."
Over the holidays, Coaldale, Lethbridge, and Picture Butte fire departments responded to multiple emergency calls and structure fires. During this time McKeown said the cold weather did manage to put one piece of equipment out of commission overnight in Coaldale. "The only piece of equipment that was unusable for the evening was the master stream on the ladder truck, as the nozzle froze, we didn't want to risk using the elevated master stream until the next day, so it all had a chance to thaw before using it and potentially causing damage to the piping."
McKeown said that in order to mitigate the effects of the cold and prevent the hoses from freezing, "there always has to be water moving, so we have to keep our nozzles open a little bit even when they aren't being used to spray water onto the fire. That way water keeps moving, and the nozzle and hose will not freeze up." He added that an entire hose line may become inoperable within a matter of minutes if a hose and nozzle are left laying in the snow without water flowing through it.
Under the conditions of heavy smoke, ash, and heat, a self-contained breathing apparatus is worn to provide breathable air on scene when the environment makes it impossible or unsafe to breathe normally. McKeown said, "another common issue we deal with is with our self-contained breathing apparatus (SCBA), there is a risk of the regulator freezing up due to water exposure, and condensation from expired breathing air causing issues."
While the freezing temperatures can limit the functionality of equipment, the risk extends to the firefighters themselves, who experience the environmental hazards of the cold firsthand and are put at an increased risk of frostbite or hypothermia.
Chief McKeown said, "ice build-up on your bunker gear which feels like you've been mummified and makes it difficult to move and slips and trips from all the ice from the water flowing. There is nothing easy about working with water and equipment when it's -30C out, it is definitely a challenge." Both McKeown and West added that on-scene respite is necessary to keep fire fighters fit to continue working in the extreme conditions. The ambulance unit in Picture Butte responds with all the fire departments in Lethbridge County, "during these cold snaps, one of their jobs is providing that space inside the ambulance for the fire-fighters to come and take their gear off and dry out and warm up and get hot packs or anything they need," added West.
"It's important that there is an area for firefighters to rehab on the scene, so they can get warm and out of the elements, have a warm cup of coffee and some water, and ensure they are feeling well enough to go back outside and work some more."
Crews were busy over the holidays responding to multiple fires and calls to service while most people were spending time relaxing indoors with family. McKeown added "I appreciate the hard work and dedication our firefighters put in over the holiday season, as they responded to multiple fires and other calls during the extreme cold warnings."
As cold weather continues this season, the residents are reminded to be mindful of smoking indoors, ensuring cigarettes are housed in a deep, sturdy ashtray, and preferably dipped in water prior to disposal. Additionally, be sure to keep space heaters away from flammable or combustible materials, ensure at least one metre of clear space on all sides, and refrain from heating shoes, clothing, or towels on portable heaters.