Coaldale Public Library to exhibit selection of photos by Lethbridge-based artist
Posted on January 18, 2022 by Sunny South News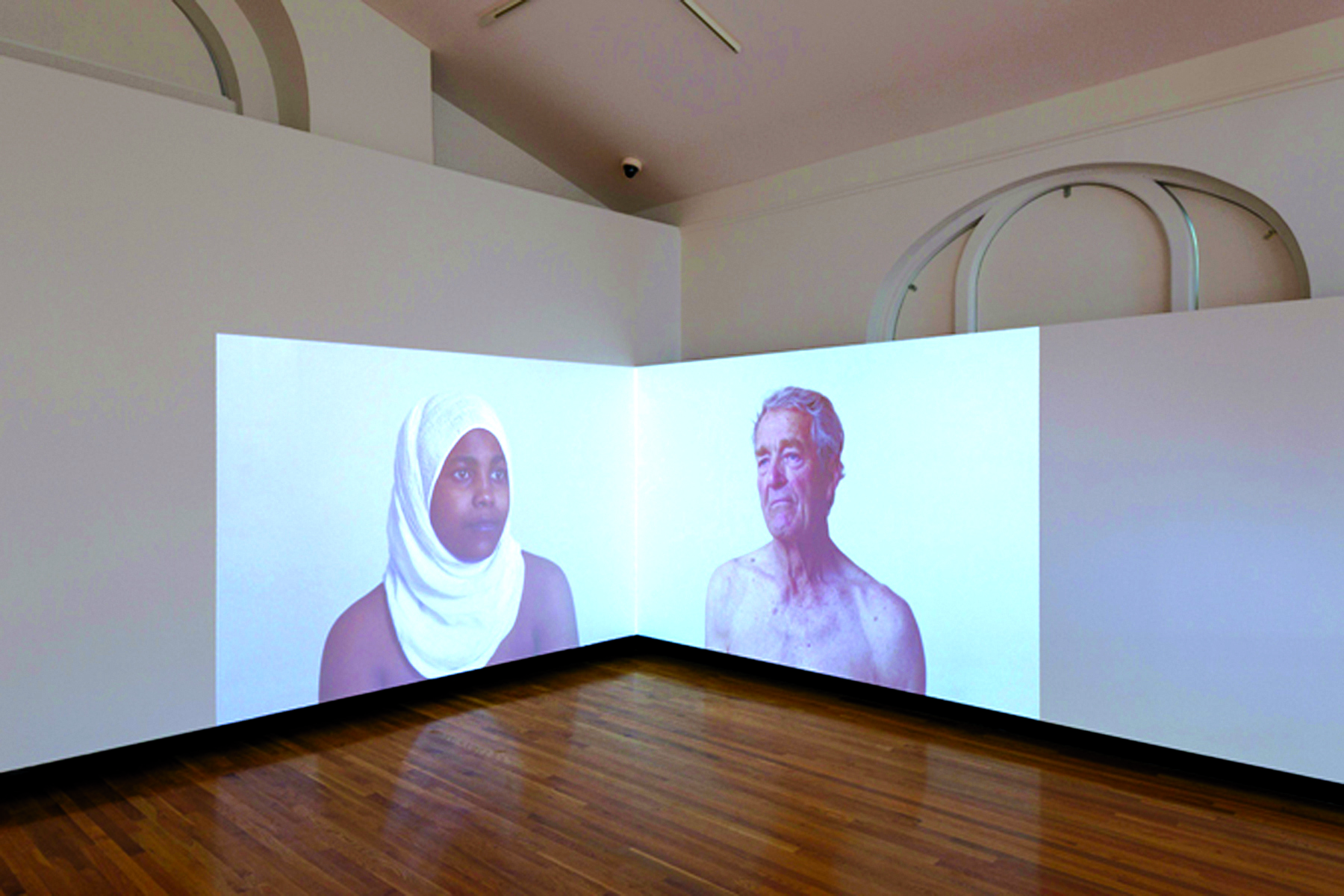 Photo by David Miller. An installation view of "Portraits in Light", taken in 2015 at the Southern Alberta Art Gallery. A selection of Petra Malá Miller's series, will be showing at the Coaldale Public Library later this month.
By Erika Mathieu
Sunny South News
A selection of Czech-Canadian visual artist, photographer and craft-maker, Petra Malá Miller's work is being exhibited at the Coaldale Public Library from Jan. 27-Feb. 23, 2022 in association with the Alberta Foundation for the Arts Traveling Exhibition Program.
Miller was born in former Czechoslovakia and has resided in Lethbridge for 10 years. Portraits in Light, her series of photographs of which she refers to as archives, relate, in part, to her transition after moving to Lethbridge and the series confronts themes of identity, community, and vulnerability. She said the project began with photographing her friends, friends and colleagues of her husband, and other artists. Through her process she expanded her network outward, and ended up photographing 150 subjects during the creation of her series.
The exhibition of the work was shown at the Southern Alberta Art Gallery after its completion in 2015. The series was also exhibited at Casa in Lethbridge in the cultural centre on their big outdoor digital screen, as well as in Medicine Hat.
"It's the idea of being new in Lethbridge and Canada. I (had) just moved here, and I started to meet people. So, this project came up and gave me an opportunity to know more people in my community, or to get closer to them and kind of built a community around myself," she explained.
In a similar way, Miller's Portraits of Light are, in a sense, an assemblage of fragments which can be understood as a community.
"I kind of built some relationships from different parts of my life, from (when) I was working, you know, and I constructed it; put all these fragments together and into one kind of new community," Miller said.
Aptly, titled, the series utilizes a mix of natural and artificial light. To shoot, she would "bring one light, so, there would be one source mixed with daylight and I would find a neutral background."
Keeping with the idea of natural, the people photographed in Miller's work are unencumbered with ornamentation.
"I wanted as little makeup or jewelry or anything as possible, and also, I made a little garment that went over their breasts or chest and so their shoulders could be exposed, so they seem like they are without clothes, that was important," she explained.
Although there have always been experimental artists who have become canonical by defying convention, the portrait form has often been associated with displays of material wealth, social-status, or occupation. Many portraits painted during the Baroque or Rococo period have since become important records of wealth and status since it was expensive to commission a portrait. It is still customary for world leaders to be documented in portrait form. However, the subjects in Miller's work appear without indicators of status.
"It that was very important for me for everyone to seem without social status, to see who they are, like as a human being." She continued to note how she directed the subjects to pose.
"It's like a classical portrait style, a three-quarter pose. I would approximately show a spot where they should be looking and then just to whatever they can to relax. The gaze was important because I took many pictures (of each person)."
In this way, Miller's work both invokes conventions of traditional portraiture while rejecting other aspects of it.
She added the people photographed are evading the viewer's gaze as, "they are not interacting with the viewer, but looking kind of on the side. I kind of let them, be almost in a meditative state. I tried to ask them to kind of just sit there and relax, as much as possible."
Portraits in Light can be viewed as a community. However, the ways in which the work is exhibited or displayed shifts the relationships between the subjects in the photos, as well as their relationship to the viewer. Miller noted the series has been exhibited in multiple forms in previous shows.
"In Medicine Hat, I had a chance to exhibit the full artwork and I had I presented like three instances of the archives. There were photographic prints, a hand-bound large-format book, and side by side projections. They were all showing the same work, but the viewer's experience of the work was slightly different. Showing it on the wall, all of them at once, you can see the portraits, (as) the group then in the projection, they would change. The relationship between people would change, (in the) projections side by side, and in the book, it would be more like you can see individual."
The complete archive contains 150 portraits, however the AFA TREX program features a curated and scaled down 20 portrait exhibit which can be accommodated in the space at Coaldale's Public Library, and will feature a selection of photographic prints, as well as a hand-bound large-format book, created by Miller.

Miller said the process of taking dozens of photographs of each subject allowed her to observe the minutiae of her subject's movements and get closer to representing a truth.
"Being with the subject photographing (them), it was very important for me to be in that moment. It was a little bit awkward, for both of us because they didn't know what to expect.  They were just sitting there. It's kind of the vulnerability of both of us, in this intimate moment that we share. Each situation, would be different, it's just (capturing) a truth in that moment."
The result is work which can be viewed with gentle observation. "It was very interesting to see their many movements and also, their breathing, like, if they're breathing in or out that all make a difference or a movement with their eyes. It changes everything slightly."
Miller recently completed a series titled, A Portrait With a Protective Face Mask/ Living in the Zone, which was recently exhibited in the main gallery at Casa in Lethbridge, wrapping up on Jan. 15, 2022. "I grew up in the zone of a nuclear power station. So, it's that kind of that relationship (of) me living in that space and recollection and also (my) connection to the Chernobyl disaster."
Miller is also working on a project called "The Children of Belarus" which further explores her personal recollection of and connection to the Chernobyl disaster, which will expand upon her work currently showing at Casa.