Coaldale names Tammy Trelenberg Coaldale's citizen of the year
Posted on April 13, 2022 by Sunny South News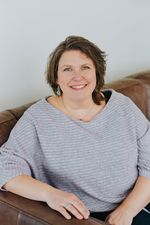 Photo by Jesselizbrands.ca
By Erika Mathieu
Sunny South News
Tammy Trelenberg has been awarded the 2022 Citizen of the Year award by the Coaldale Chamber of Commerce. "I am so honoured. I wasn't expecting it," said Trelenberg. She has lived in the area coming up on eight years and is originally from Chilliwack, B.C.
"I love how much green space there is here and how many parks there are around town," she explained and added, "I like the 'tiny' of it." Trelenberg works in a volunteer capacity for the art and culture committee at the Gem of the West Museum as well as helping out in the community service department. Although Trelenberg shows up in a number of ways for the community, she is humble in the impact she has made with her volunteer endeavours. "I literally show up with crafts and hang out with the kids," she laughed.
Trelenberg often utilizes her coordinating skills by entertaining and leading children through crafts and activities at a number of community and town events. Recently, during the community fest event at the Coaldale arena, she could be found in the foyer with a giant craft table and all the necessary supplies to keep the kids occupied and engaged. During the Winter Festival of Lights, Trelenberg was camped outside every night with glue, glitter, and craft supplies in hand. "I'll be there all night, just crafting — I bring my scissors and glue, and (help) the kids. I'll give them the instructions and supplies, which results in some pretty fantastic products, explained Trelenberg.
Even when the children take some creative liberties, she makes sure they know their efforts are appreciated. "When they follow the instructions it looks amazing and when they do their own thing it looks amazing, and it just fills my heart."
Trelenberg also facilitates a space called the "trash to treasure tent," which has appeared at community events such as the summer event and is comprised of leftover craft supplies, clean recycling, and other materials which are then up-cycled by kids and youth to make new crafted items. "FCSS supplies the adhesives like coloured duct tape, washi tape, and regular packing tape, you name it? It's in the bin and kids, literally spend hours taping, a sour cream container to an empty popcorn tub. It's fantastic," she said.
Trelenberg said she wants to see passionate residents step up to push Coaldale forward and ensure the town avoids becoming a sleeper town and continues to gain vibrancy. She added new visions of progress for the town might be challenging for some residents as Coaldale continues its impressive growth trend.
"I think it's going to be a hard transition," she said. "We're a very small town," and added she thinks there is an opportunity to grow some amenities downtown such as shopping, entertainment and dining.
In her job with the Art and Culture Committee at the Gem of the West, Trelenberg's current role is in, "maintaining the Scotia Banke Art Gallery," while also navigating the challenges posed by the pandemic. "The calendar was pretty packed," prior to COVID, "and now we're out of practice," she said, noting the reduction in events has made it challenging for some committee members to stay engaged.
Trelenberg's experience volunteering for community events allows her to give input to planners on how materials are set up, and the flow or logistics of an event as well. She is also in partnership with the Coaldale Library and is working with them on creating a spoken word event as well as holding an art show and sale in the gallery, alongside a book sale and other activities. Although Trelenberg works primarily in a volunteer capacity within the community, she said running for council is a possibility for her in the future. "Last election I was really toying (with the idea) of running," and added "it's possible," she would go down the path of running for municipal government in the future.
Trelenberg said she continues to move forward with this kind of volunteer work out of sheer passion, and is motivated by the enjoyment it brings her. "I love it. I absolutely love it. It just brings me joy," she said and added she prefers to keep busy. She added she is grateful to be able to volunteer her time, but that the support of her husband, allows her to pursue community-based passion projects. "I really couldn't do this without Brian." In speaking with Trelenberg, it is clear she shows up in a lot of ways for Coaldale. Even so, she said, "I wasn't expecting (it). I think because I have so much fun with the kids." Trelenberg said she often works alongside Coaldale's Manager of Community Services, Cindy Hoffman. "I love helping her out. It's just fun."