Not-for-profit to donate 700,000 pounds of groceries to southern Albertans
Posted on April 13, 2022 by Sunny South News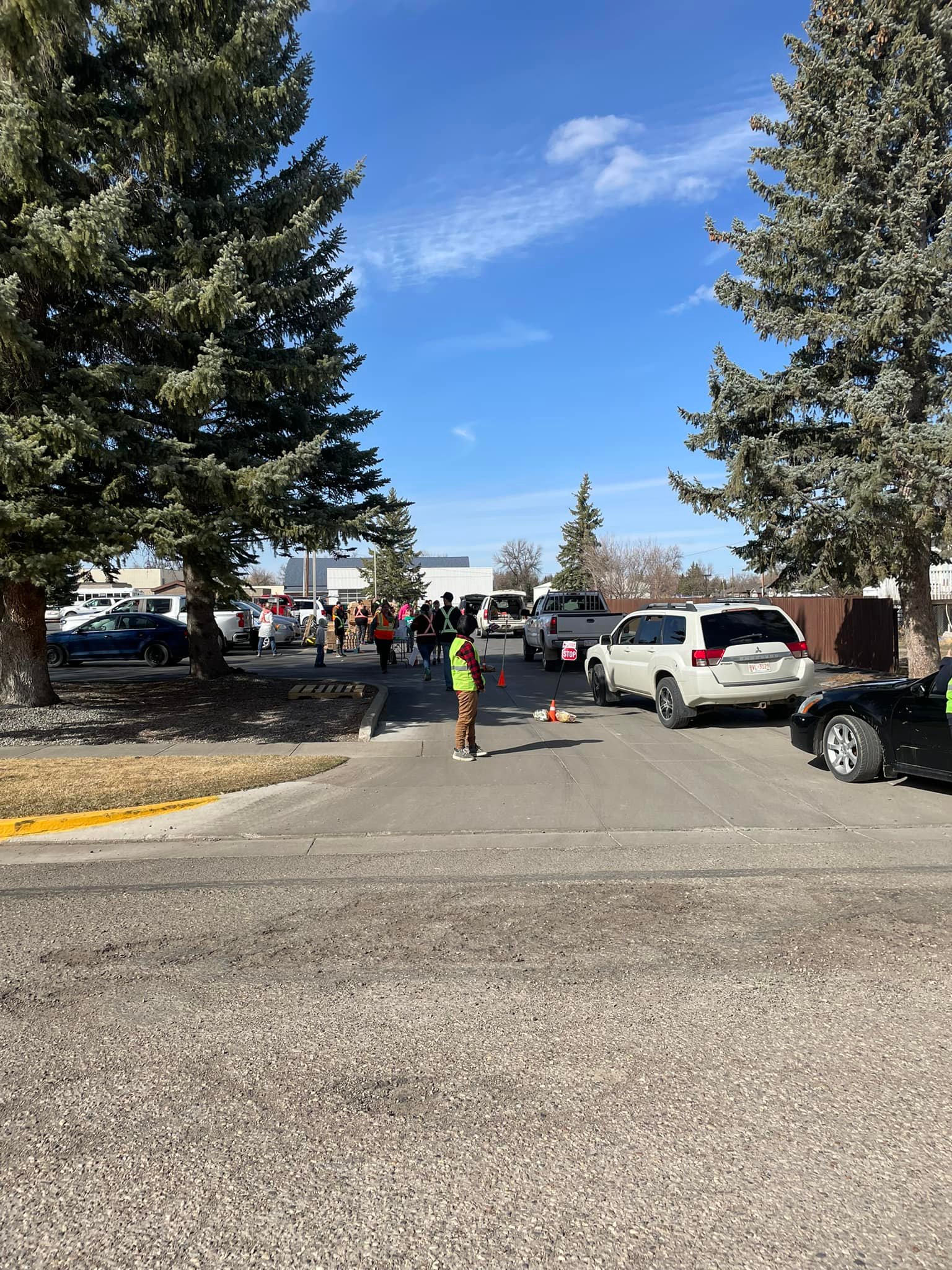 By Erika Mathieu
Sunny South News
Friends, neighbours, and families needing a bit of extra food security lined up recently in Magrath for the Calgary Family Peer Connection's (CFPC) "Hand up Not Out" food distribution event. This week, Coalhurst will be the next community to host the Hand Up Not Out team as volunteers are set to distribute 100,000 pounds of free groceries to community members in need. The town of Coalhurst recently donated the Miners Memorial Park as space to hold the grocery drive scheduled from 11 a.m.-3 p.m. this Friday.
CFPC works with corporate food operations and receives warehoused food that would otherwise be disposed of in landfills due to logistical errors such as missed pickups, incorrect inventory, or product overstock. The CFPC diverts acceptable food from being thrown away and instead distributes it to feed families in need. For the upcoming Coalhurst event, CPFC is in charge of acquiring food donations, Headwater Equipment Sales has sponsored food transportation costs, Cabinet Expressions donated their forklift and operator to unload the food off the trucks, and the Town of Coalhurst donated the space. The CPFC sponsors the food, sponsors help pay for the transportation to various communities, and volunteers help distribute the food,
According to Brittaney Taylor, the distribution manager at CFPC, the Hand Up Not Out program will be responsible for, "distributing over 700,000 pounds of groceries across seven rural Southern Alberta communities in the next two months." Although the not-for-profit posts updates through social media channels, Brittaney Taylor, distributions manager for CFPC said, "our biggest struggle seems to be reaching all the people that are in need of this service," and added the April 1 event in Magrath, would have benefitted from increased awareness of the event.
"We realized our biggest struggle with Magrath's event was that people weren't hearing about it until it was already happening. We made sure to advertise in all the local Facebook groups for several weeks prior and we put up posters, but it still wasn't enough to reach the full community prior to the event. It was word of mouth from people that had gone through the distribution that really got the residents lining up," and added support from the communities they serve will help the organization expand its reach and ensure, "all the people who could benefit from some extra groceries get to (benefit)."
The organization aims for "equitable" distribution of groceries, "we don't discriminate, and you are welcome to jump back in line if you need to pick up for another family that is not present," explained Taylor. The recent event in Magrath saw many people picking up groceries for neighbours or other family members who didn't have access to a vehicle or were unable to make it in person.
Although the CFPC has become, "the largest food rescue agency in Western Canada," Taylor said the organization, "could really use a little extra help as an organization," after being excluded from some municipal grants, including in Fort Macleod, which has since impacted the organization's ability to operate there.
"We are so proud of what we are doing, but the increased cost of living affects our warehouse as well. Our agency is only two years old and we have only just become a society, so our grants and supports are not as vast as many other non-profit organizations that are already well established," she explained.
As of yet, the organization has had no issues with acquiring enough volunteers to keep the distribution events running smoothly, but said, "We could always use more volunteers."
People interested in volunteering for the upcoming event in Coalhurst are welcome to meet at the Miners Memorial Park at 10 a.m. on Friday, April 15. "I think that is my favourite part; to see communities come together. From our volunteers to our sponsors that helped make this event possible, it's humbling to see so much good," explained Taylor.
The CPFC currently has a joint venture with Ecssen which connects the organization with the Shaw Charity Classic, Birdies for Kids and Altalink. Donations made through this charity fundraiser will be matched, up to 50 per cent. To learn more about this venture or to donate, visit https://shawcharityclassic.com/calgary-family-peer-connections-ecssen/.
Volunteers coordinating recent Hand Up Not Out events reported line ups started two hours before the event so people in need are encouraged to, "make sure you line up for the event early."
Upcoming Hand Up Not Out events in southern Alberta are scheduled in Coalhurst on April 15 from 11 a.m.-3 p.m., Cardston on April 23 from 11 a.m.-3 p.m., Stirling on May 7 from 11 a.m.-3 p.m., Milk River on May 14 from 11 a.m.-3 p.m., and Raymond on May 28 from 11 a.m.-3 p.m. to keep up to date, search for your community's "Hand Up Not Out" event page on Facebook.
Taylor said, moving forward the organization is, "hoping to find the networks and resources to provide food to all these communities on a regular basis," and added, "a large-scale distribution can sound unconventional, but the conventional way isn't getting food to everybody, especially rural Albertans."