Coaldale's Canadian Foodgrains Bank growing project plants seeds for global food security
Posted on May 4, 2022 by Sunny South News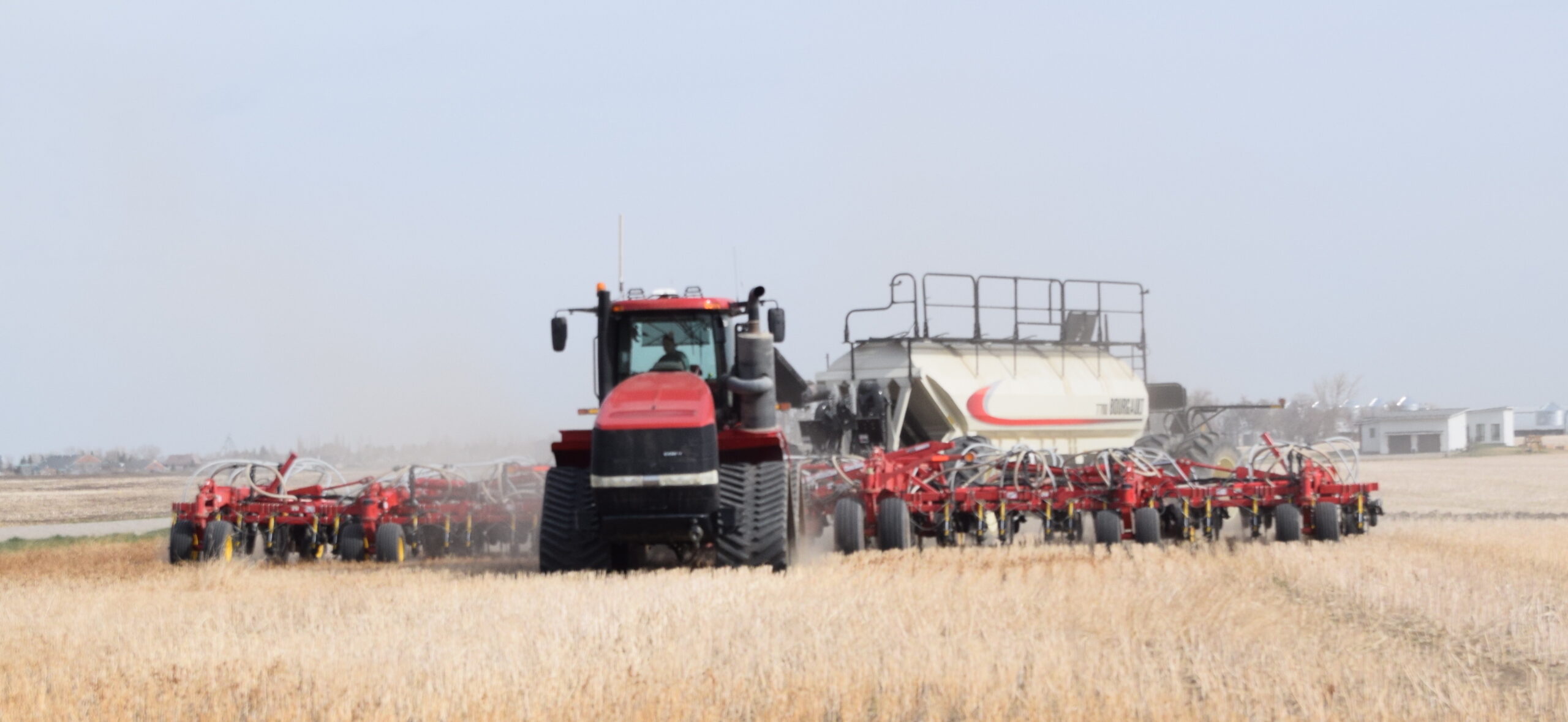 Canadian Foodgrains Bank growing project seeds a quarter section of land just outside of Coaldale.
By Erika Mathieu
Sunny South News
The Coaldale chapter of the Canadian Foodgrains Bank (CFB) has officially kicked off its' 2022 growing season. The charitable organization has been operating in Canada since 1983, and has had a presence in Coaldale for over a decade. The quarter section of land, provided by owners Herb and Kristine Wall, was seeded on the morning of April 29, just a few kilometres outside of Coaldale.
According to growing project member, and media contact, Larry Penner, "the total amount contributed for the Lethbridge Coaldale project was $235,782," in 2021, amounting to well over $1 million including the contributions from the Canadian government. In addition to Coaldale's involvement, neighbouring communities such as Picture Butte, Taber and beyond, all participate in local growing projects for the Canadian Foodgrains Bank.
The enormity of the operation, even for a quarter section of land, can't be understated. The trucks loaded up a total of 15 metric tonnes, just over 33,000 pounds, of urea between the two drills, in addition to four tons, or nearly 9,000 pounds total, of phosphorous. Nutrien supplied 130 bushels (6,200 pounds) of Oreana barley seed, and 250 bushels (12,000 pounds) of a new variety of barley called Esma, was supplied by XTC farms.
Ary Vreeken, the Alberta Regional representative for the Canadian Foodgrains Bank said the government of Canada matches contributions for donations, which in the case of direct emergency food relief, is 4:1. Other types of aid, provided and facilitated through CFB's programming includes training resources for local farmers to build their own sustainable operations, which will support their communities for generations.
There is a spillover effect when it comes to training farmers, and providing support to establish long-term self-sufficiency. Vreeken said one village overseas had received training and supports through the Canadian Foodgrains Bank a few years ago. This village had a central community leader and farmer who tried out a new tillage technique. "People in the community saw (the success of) his field and they would say, 'how do you do this?' And then he would show the people in the community how to do it," explained Vreeken. "Pretty soon, the whole community was having a great crop, even during dry years," Vreeken said. In this case, other villages began to take notice of the successful crop and inquired about how to team up with CFB. However, rather than this happening, the farmers began to teach surrounding villages what they had learned. "By the time I found out, they were already working in six different villages near them," said Vreeken.
"You're aiming for people to take this on and spread the word, and learn from each other."
The Lethbridge/Coaldale Canadian Foodgrains Bank growing project requires several million dollars in equipment and materials, in addition to the time, effort, and community buy-in to make the project a reality. When the crop is harvested, hundreds of volunteers from the community show up to lend a hand.
Penner explained, "One of the things that this is titled a community project (…) when we grow barley, we involve many other livestock producers who will consume the barley in this area. We just get that many more people involved by growing barley and having others involved in the acquisition of that grain."
"There is a whole community behind it," said Vreeken, "without farmers here, we wouldn't be able to do the work (all over) the world."
Canadian Food Grains has reached over 70 countries worldwide through its growing projects and food aid. Developing nations tend to comprise the majority of areas to which relief is allocated to, but the organization also responds to other developed nations when needed, the most notable as of late, is Ukraine.
With respect to the organization's ongoing humanitarian efforts in Ukraine, Vreeken said, "right now, inside Ukraine, when everybody was fleeing, it was the (local) churches that opened up their doors and then became shelters or feeding stations," in some cases, these churches were providing food all day long. Oftentimes, churches here in Canada will send staff and material overseas, to ensure the churches in Ukraine could continue to feed people in need.
Vreeken said the rising cost of commodities including land, grain, fertilizer, and fuel has been challenging this season specifically. "A lot of projects thought that they were not going to get fertilizer donated because it's so expensive. It's double for what it was last year," and added it has been difficult for some local chapters to find land given the sharp increase in cost per acre.
Penner agreed: "the prices are unprecedented in light of what's going on in the world. That's the biggest challenge, is how do you work with inflationary numbers that are that huge."
The Canadian Foodgrains Bank has been named one of Canada's top 10 impact charities for a fourth year in a row by Charity Intelligence and based on independent evaluations, CFB's impact per dollar is, "really high." Vreeken stressed the ultimate goal of the Canadian Foodgrains Bank in their overseas training efforts is not to enter into communities, take over, and leave once a temporary solution has been put in place, but rather to do the work so that one day, there is no longer a need for his position at all.
"Give a person a fish, (and they) will eat for one day, teach a person to fish, and they will eat for a lifetime," said Vreeken, but added the element of access is an important consideration, "the other aspect is, then you have to make sure that person can actually go to the ocean."
"As a Westerner, I work together with a local organization with local staff because they know their own people. All we do is we support their work. We make sure that they can do what they need to do."