Nobleford to allow urban hens back into town
Posted on May 24, 2022 by Sunny South News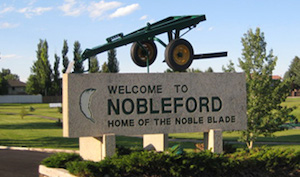 By Erika Mathieu
Sunny South News
Nobleford residents can now apply for a licence to house up to five chickens as per the newly passed Bylaw #681
The Town survey on the matter concluded on April 22, and was used to collect feedback from residents in the town of Nobleford, which helped direct council and administration on the next steps, on whether to allow urban hens into the municipality. According to the survey, 43 out of 65 respondents were in favour of the bylaw, 11 were unsure, and 11 were against it.
CAO Joseph Hutter explained under the new bylaw, residents would be, "limited to five chickens, of which none can be roosters," and would have to apply for a licence through the town.
"It is common," among municipalities with similar urban hen bylaws, "to have a limit on the amount of licences given out," explained Hutter, adding that although there are plenty of people in favour of the bylaw, "there are people who have concerns. I do think that perhaps by limiting it finds a good common ground."
There is a $10 application fee, and $50 for the licence itself, and bylaw officers will be responsible for issuing tickets, in the event the chickens are not being kept in an acceptable environment.
The bylaw stipulates outdoor enclosures cannot exceed must be at least 0.37 square metres, and larger than 10 square metres, in floor area, and must be a minimum of 0.92 square metres and not to exceed 2.4 metres in height. Urban hen licenses will be valid from Jan. 1 through to Dec. 31 of the year in which it is issued, and must be renewed, annually prior to Jan. 31 of each subsequent year. Urban hen license fees will not be reduced or prorated regardless of the month of purchase and will not be refunded or rebated. The bylaw also stipulates an urban hen license, which may be refused or revoked, or denied renewal by the chief administrative officer if the applicant or license holder no longer meets the requirements for the license as set forth in the bylaw.
In addition to providing each urban hen with food, water, shelter, and light. ventilation, care, and opportunities for essential behaviour, such as scratching, dusting and roosting, the bylaw outline limitations for the keeping of urban hens. Licensees are unable to sell eggs, manure, meat or other products derived from the hen and are not allowed to slaughter the hen on their property.
Following the adoption of Bylaw 681, the Urban Hen Bylaw, council passed second and third readings of Bylaw 682, Keeping of Wild or Domestic Animals or Poultry in the Town of Nobleford, so Bylaw 682, "wouldn't contradict 681."
Following the vote, Hutter said administration would begin working on a licence application to ensure residents would be able to apply as soon as possible.