Ag-focused trip to Zimbabwe "reinvigorates passion" for director of Farming Smarter
Posted on November 9, 2022 by Sunny South News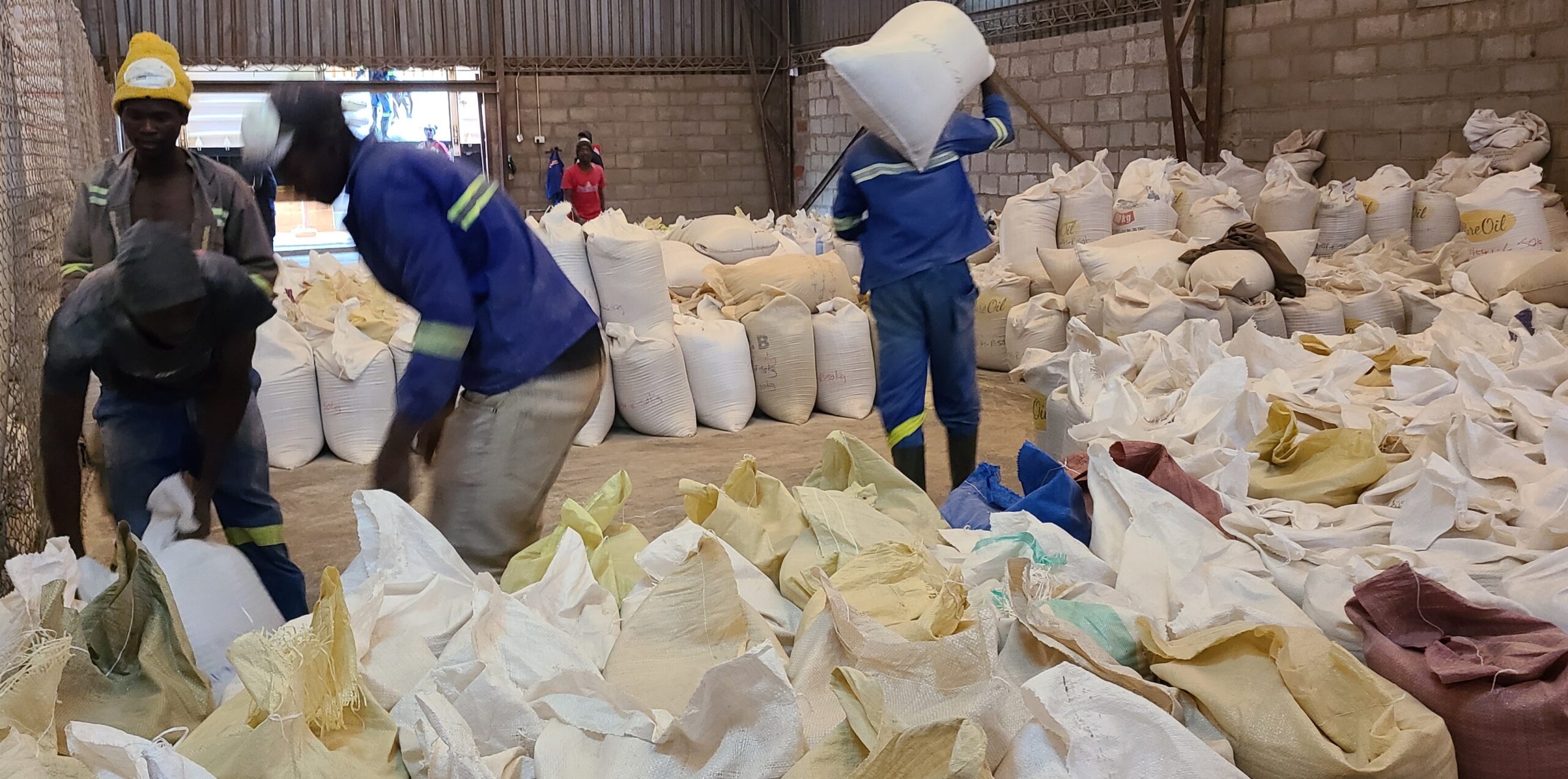 Photo by Ken Coles. Hand-loading grain onto transport truck in Zimbabwe.
By Erika Mathieu
Sunny South News
Executive Director of Farming Smarter, Ken Coles recently returned from a life-changing trip to Zimbabwe as part of Nuffield's Agricultural scholarship, aimed to cultivate agricultural leadership and personal development through international study and travel. Coles had a lot to share about his two weeks in the land-locked African country, but said the experience provided him with "a full heart and a full brain."
In recounting his travels, Coles provided context on some of the significant socio-political factors of Zimbabwe's history including the country-wide land reforms which began in 1980 under former president Robert Mugabe and were brought in as a measure to more equitably distribute land between black subsistence farmers and white Zimbabweans of European ancestry. Zimbabweans of European descent were stripped of their titles and ability to own lands, many by way of violent takeovers. While the nuances of this political landscape are not easily captured, the policies have had a long-standing impact on the agricultural industry, and greater economy in Zimbabwe.
"They don't own land now. They can't own land, and they can't get any bank loans. During a lot of that transition is where hyperinflation came in," said Coles, referring to the $20 trillion note, which was perfectly legal tender at one time.
 "These guys are still out there trying to make things happen and when they do they do it in a big way. It was really interesting It was kind of humbling in that regard," Coles said.
"I think the entrepreneurial spirit that they have is, is definitely (something) that I grabbed on to," he added. He highlighted that manual, hand-powered farming operations were commonplace in Zimbabwe, due to the access to cheap labour. Coles captured video of one operation in particular had workers hand-loading a transport truck with grain in what is considered to be a modern facility. Dashing in and out of the loading bay with the grain on their shoulders, not an auger in sight.
"It's kind of like a perseverance thing. We get caught up in little squabbles here (in Canada) and these guys (operate in) complete chaos and still find a way to become successful. I think if anything, it reinvigorates passion, we're going through little squabbles right now regarding our government policies. I think we need to wake up and get a little more involved in policy and fight for a system that does work," rather than focus on less consequential issues.
"We have an opportunity. (We're) one of the only countries in the world to actually export to the rest of the world," he said noting he intends to use his voice to speak up for better Ag policy in Canada.
While there were a ton of ideas and learning, his group was able to enjoy some of the natural wonders and tourism highlights as well. Coles said, "we got to see some African animals which are pretty exciting." He presented photos of him side-by-side with black rhinoceros', countless images of cheetahs captured in close proximity on a game reserve/Tobacco farm, and plenty of zebras, elephants, and giraffes. He said crocodiles were abundant along the Zambezi river, and crocodile farms provide the country with one of its few export products and are primarily used for high-end luxury goods in the European market.
 "The landscape is incredibly captivating. Their sunsets are amazing," and added the people he met were " all incredibly friendly and always smiling."
 He noted there remains untapped potential within Zimbabwe to ramp up agricultural production through the expansion of irrigation and infrastructure and added Zimbabwe's existing export market is relatively small and untapped, but that there is a great potential for future expansion of high-value export crops. Currently, blueberries, citrus, nuts, crocodile, and niche flowers are exported into the European market by ship. Coles has begun uploading anecdotes, photos and videos online, and will continue to upload more of his adventure in the coming days. Follow him on Twitter @KillerKenColes