Coaldale RCMP Detachment receives Blackfoot name and blessing
Posted on February 1, 2023 by Sunny South News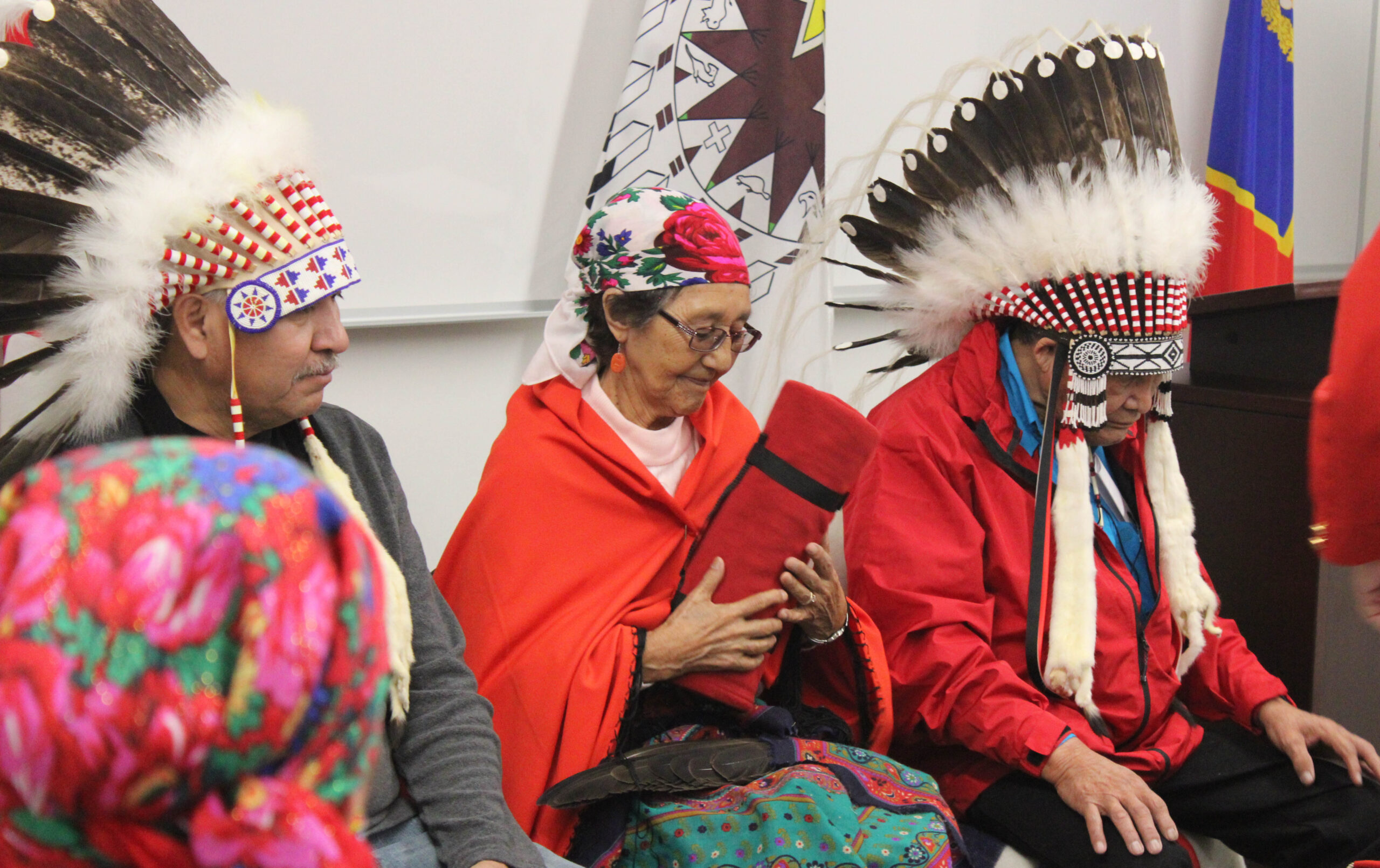 (L-R) Piikani Chief Troy Knowlton (left) joins spiritual Elders Jeannie Provost, and Peter Strikes With A Gun during the ceremony. Photo by Erika Mathieu.
By Erika Mathieu
Sunny South News
The Coaldale RCMP detachment has been given the Blackfoot name, Moi'ksi'suk'kah'simm'yoi'iss, or "Red Coat Lodge" in English by Blackfoot Elders of Piikani First Nation following a blessing and naming ceremony on Jan. 24.
   Following the official closure of the historic RCMP detachment in Lethbridge in 2021, the staff relocated to the brand-new building in Coaldale.
Elders of Piikani First Nation, Treaty 7, Peter Strikes With A Gun (Eagle Speaker) and Jeannie Provost (Many Buffalo Rock Women) led the blessing and naming ceremony on last week at the Coaldale detachment with senior Officers from the RCMP and other agencies, as well as Mayor of Coaldale Jack van Rijn, Mayor of Picture Butte Cathy Moore, Lethbridge County Reeve Tory Campbell, Indigenous leaders, and local detachment staff.
S/Sgt and detachment commander for the Coaldale and Picture Butte detachments, Mike Numan said, the detachment staff and officers, "will endeavour to retain the knowledge learned today and share with all those that follow in our roles."
Numan added, "As detachment commanders, we are asked to display the Alberta Treaty 7 Territory acknowledgement plaque in our building. Before completing this, I felt it was very important for us to have this detachment blessed and named by our Elders."
Both Jeannie and Peter are prominent spiritual elders in the Blackfoot community. Their spiritual involvement within their community includes members of the former Beaver Bundle, members of the Thunder Medicine Ceremonial Society, and members of the Red Coat Society, a teaching society of Piikani members, of which Peter Strikes With a Gun is the last remaining member.
Strikes With a Gun spoke about the ways the whiskey trade had impacted the Blackfoot people, noting during this time there was a "sickness with smallpox, and a sickness with alcohol," when the North West Mounted Police (NWMP) were sent to remove the American whiskey traders and reinstate order in the west.
"When the red coats (NWMP) came upon our nation (in 1874), we were sick, we were drunk, and we were starving. So, when they came, we had brought hope that those (struggles) would be eliminated," said Strikes with a Gun.
"This is why the Elders said we must maintain our relationships with the Red Coats. Today, it is an honour as the Red Coat Society to be able to come forward and acknowledge this and to honour the role you have been given to enforce."
Newly elected Chief of Piikani Nation, Troy Knowlton was also in attendance. To the law enforcement present, he said, "continue to serve and protect, but treat my people fairly; I have to say this because of the incidents that do occur. There are times where our people are not treated fairly by RCMP and other law officers."
Strikes With a Gun shared a powerful teaching with those in the room. "I went through a trauma in the schools I went to and I became a full-blown afflicted person." After a period of struggles, including within the corrections system, Strikes With a Gun shared the same lesson he said he brought back to his community, "The problem was not out there, the problem was in here," he said pointing earnestly to his chest.
"This building here, (symbolizes) the understanding that there is hope for the future," he said. He recalled how on one particular occasion in the -30 degree winter, "an RCMP told me, 'go home, I don't like picking you up anymore,' and for the first time in a long time I heard a kind word," noting the hope this interaction brought him.
"Today that is what I bring to the goodness of this building, that there is hope, and that there is faith."
Strikes With a Gun continued, "our laws were never written; our laws were empowered into the new generations with good understanding of the testimony they have taken upon their journey, the purpose of our relationships were sacred; that we had come together to build the wealth of this country and today we still celebrate those events. We do need the necessities of safety, and this is the honour you have undertaken to be able to help."
"This building will be named after that famous acquaintance we had between the Blackfoot confederacy and the (NWMP); That is the name: Red Coat Lodge."