Maintaining adequate volunteer roster among top concerns for departments in region
Posted on October 11, 2023 by Sunny South News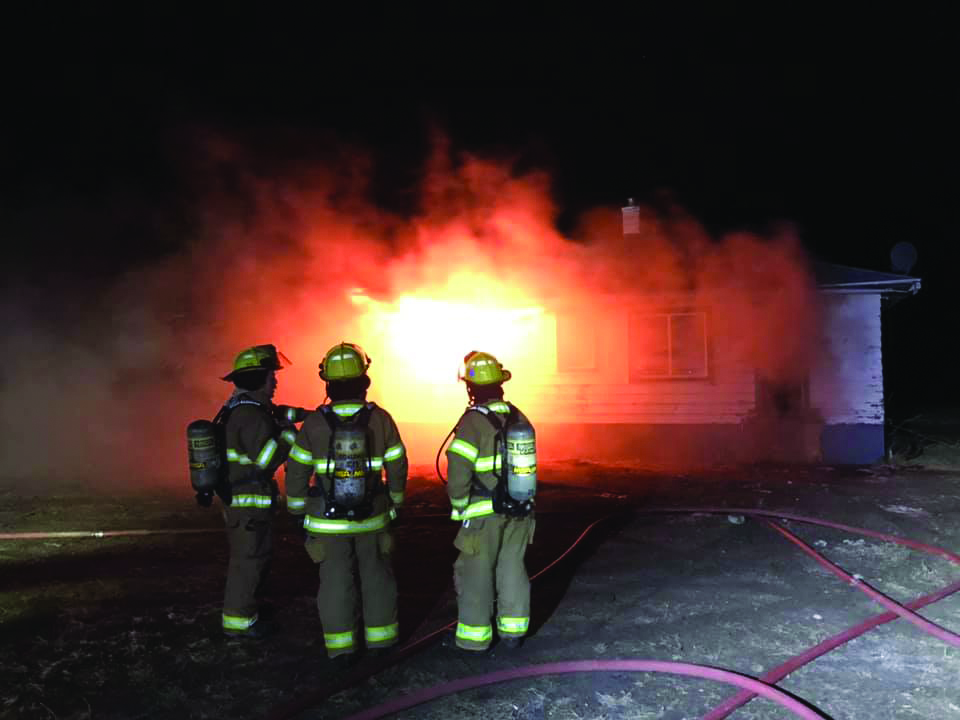 Structure fire: A CDES crew is pictured on-scene, responding to a house fire in earlier this year.
By Erika Mathieu
Sunny South News
Recruiting volunteers continues to be the most challenging factor for departments across southern Alberta.
In an environment known for its extreme conditions, physical and mental demands, and steady rises in call volumes over recent years aren't the top concern for leaders in fire services, rather it is maintaining an adequate number of volunteers, coupled with the ever-increasing challenges and demands of the profession.
According to the Canadian Association of Fire Chiefs (CAFC), volunteer firefighters make up over 70 per cent of total firefighters in Canada. In 2022, the CAFC, in partnership with the Answer the Call committee, the Data committee, and the National Advisory Council (NAC), worked to complete the 2022 Great Canadian Fire Census which provides an overview and description of the state of the fire and emergency sector, and is the most comprehensive and current data set available. The report outlines key issues across the over 3,200 fire departments include increasing call volumes, equipment costs, and risks of death and injury. However, the Census identifies diminishing numbers (the total number of firefighters in Canada fell from 156,000 in 2016, to 126,000 in 2022), and the system's high reliance on volunteers as two of the top concerns for departments across Canada.
Byron Fraser, Manager of Fire Services at Lethbridge County, said among all of the challenges, the continued decline in volunteer firefighters remains a top challenge from his perspective. Fraser cited a number of compounding factors with respect to the decline in volunteerism.
"The culture is changing. Volunteering is becoming less and less common for many reasons," from busy schedules, to the impact of technologies, to training standards," adding, "Everyone's life is busier and busier and people don't need to get into the community to socialize like the past. Socializing is at their finger tips. Requirements and commitments are changing, are we are required to have a higher level of training than before which requires more commitment, fire departments are shifting their strategies to do more with less while continuing to look for qualified firefighters to fill positions."
During the Sept. 21 Lethbridge County council meeting, Fraser confirmed call volumes continue to increase year over year, and said while businesses in the region are by and large "really good" with respect to accommodating employees involved in volunteer fire fighting, "we're getting a little bit of hesitation just because its impact (is) starting to impact their business, too."
Of the $5.6 billion in fire department expenditures, only 15 per cent is attributed to the more than 2,000 fire departments that are volunteer (located mainly in rural areas).
Director of Emergency Services in Picture Butte, Frank West, concurred and said attracting and maintaining an adequate level of volunteer firefighters remains the biggest challenge for the department, year over year.
"As with many other fire departments and volunteer organizations, volunteers are getting harder to find and keep."
West said the department is always trying innovative strategies to attract and retain new volunteer firefighters but said the role requires, "a huge commitment of time and energy that is increasing all the time with higher call volumes and training requirements."
In 2020, Coaldale adopted a new volunteer firefighter personal tax rebate which provides eligible volunteers with up to a $1,000 per year property tax rebate from their residential tax bill, in an effort to incentivize volunteer retention.
"We are hoping that some of our new initiatives like the Volunteer Firefighter Tax Credit offered by the Town of Picture Butte will help to keep our volunteers serving for many years," West said.
Even with collaborative efforts to promote volunteerism, Coaldale's Director of Protective Services Clayton Rutberg agreed the biggest challenge of the year has been volunteers. Although Coaldale recruits once per year every year, the process is involved and takes between six and seven months from the time of the interview to when a volunteer has their boots on the ground.
"We typically have some turnover, so some years we are only replacing the volunteers that have left and not increasing the size of the department. Since I started with CDES in 2018 our goal has been to have 40 volunteers. Although we may get up to that 40, we usually lose members each year so it becomes difficult to maintain 40. Last year with our increased call volume and response district, we increased our desired members to 45 however due to recruitment and retention issues we are currently sitting at 32 volunteers," Rutberg explained.