Author of "Farmwives" book series attends Women in Farming conference as keynote
Posted on November 9, 2023 by Sunny South News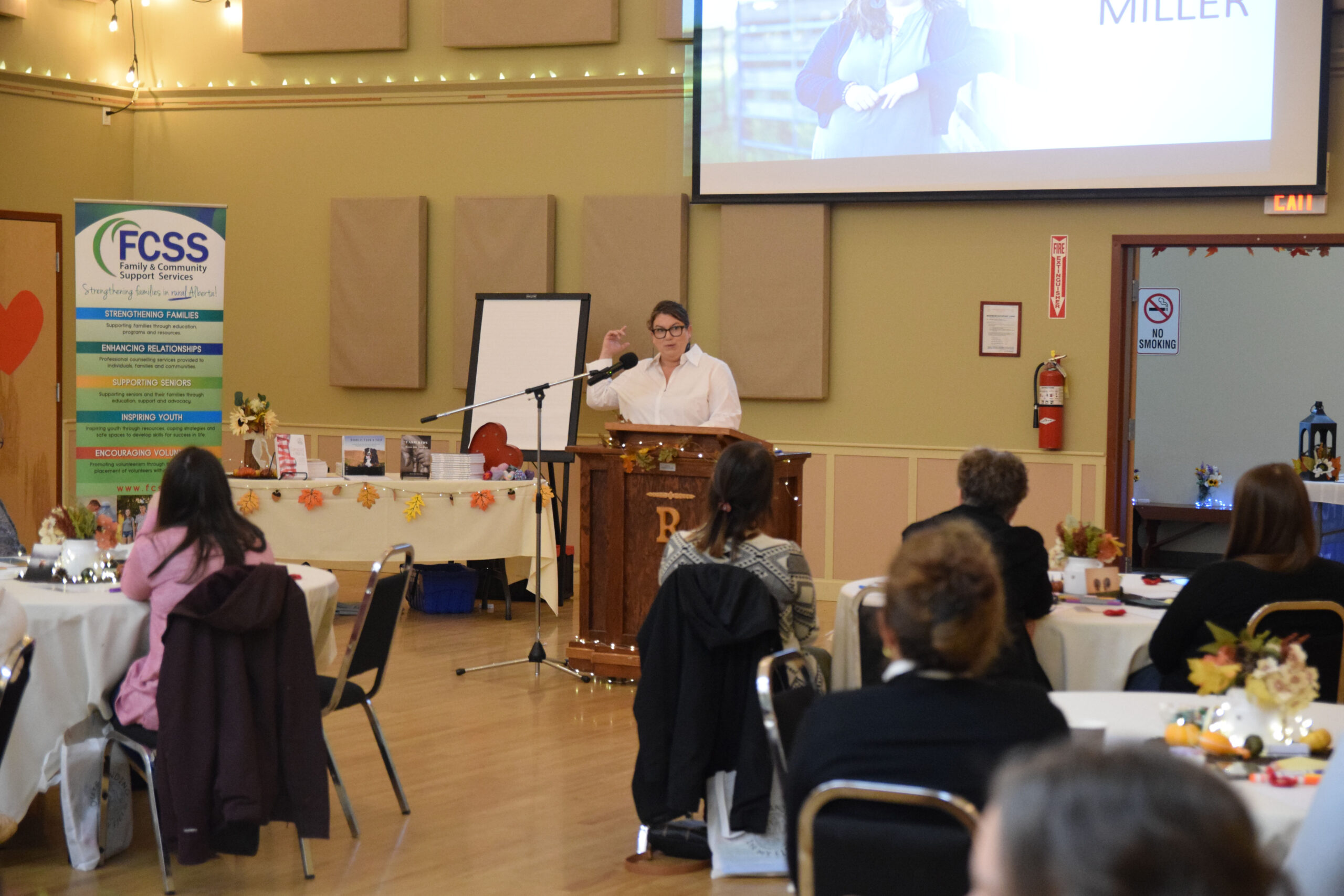 Conference connects women in Ag: Hosted by FCSS, the event heard from Alberta-based author and story-teller, Billi J. Miller. Miller spoke on the unique dynamics of living and working in a family farm. Photo by Erika Mathieu
By Erika Mathieu
Sunny South News
A conference hosted by FCSS at Readymade Hall in Lethbridge County last month was geared exclusively toward highlighting the contributions of women in farming.
The conference included a catered lunch and provided attendees with the opportunity to connect with other women in agriculture and delve into some of the challenges and triumphs of living and working on a farm.
The event included a keynote address from Alberta-based storyteller Billi J. Miller, and her work interviewing dozens of women in farming to capture the multi-faceted experiences of women in farming.
Organized by the Farm Family Outreach team, a support team under the Barons-Eureka-Warner Family and Community Support Services (FCSS), the Farm Family Outreach teams aims to connect members of the farming community with resources in rural southern Alberta, and help families navigate the unique challenges often experienced by farm families.
Miller has interviewed dozens of farm women for her books "FarmWives" and "Farmwives 2". The books include interviews and seeks to highlight the immense contributions of women in farm families.
Miller said one of the important aspects to her work is to challenge misconceptions about farm families.
"I felt like there was a little bit of a misconception that people keep doing it (farming) because it's all they know how to do, because they never left, and because they don't know how to do anything else."
When asked whether she encounters genuine criticisms from interview subjects about gender roles or the terminology "farm wife", Miller said it's a question she has thought a lot about.
"Yes, my first book was called 'Farmwives in profile' and I was asked by a whole lot of women, 'are you sure you want to call your second book that (Farmwives 2), and I made that conscious decision to do that with the disclaimer in the very beginning of each of my interviews."
Miller said, in an interview for her second book interview, she asked of one of her interviewees if, "she considered herself to be a farm wife; she told me, 'I don't want to be defined by what my husband does for a living.'"
Miller stressed that times have changed. Farm women and girls 50 or 100 years ago often had limited options for pursuing a life and career out of the fields, but said for most of the women she speaks with, this is no longer the case.
Miller said her interviews have revealed that in most cases, "it was a truly conscious decision to come back, and to live that life on their farm."
Miller herself said she embraces the term, "Farmwife" but understands it might not be a title universally embraced by other women in farm families.
"I feel like we decide what that role is and we are lucky to be able to define our own role now."