Turin 4H Club raises over $60,000 in honour of community members' passing
Posted on November 9, 2023 by Sunny South News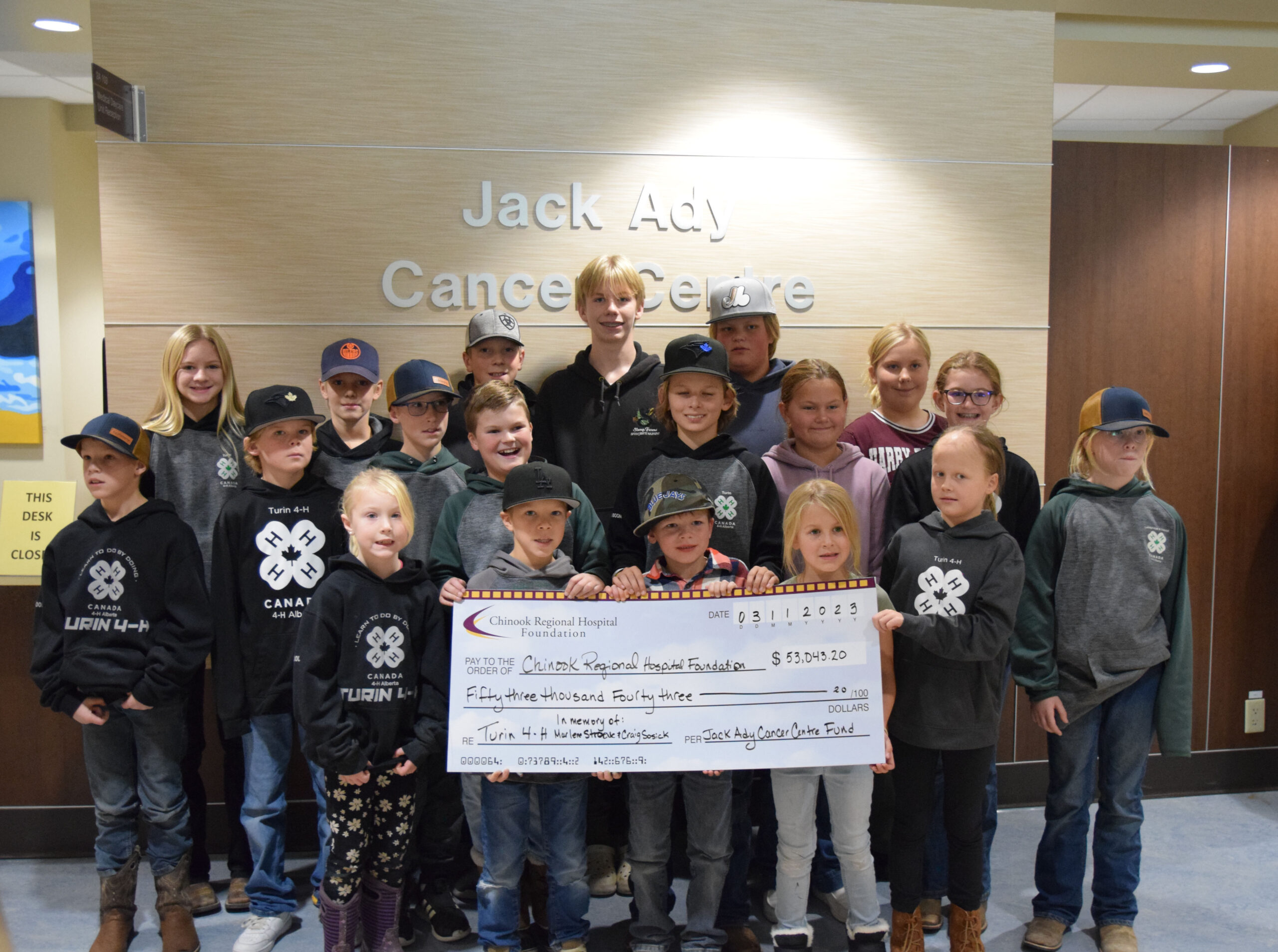 Making an impact: Children from the Turin 4H club presented an impressive $53,043 donation to the Chinook Regional Hospital Foundation this past Friday. Photo by Erika Mathieu.
By Erika Mathieu
Sunny South News
Thanks to a passionate group of 4H children, and the generosity of community members, the Turin 4H club presented the Chinook Regional Hospital's Cancer Centre with a $53,000 cheque on Nov. 3.
Dr. Andrea Graner, an Oncologist at Chinook Regional Hospital said, "anytime a community group or family group is able to donate money the funds typically go towards patients supports, largely, but it can also go toward funding new resources within our cancer centre. the idea is that funding that comes in stays in the community," helping current and future patients being treated in the centre.
Graner added, "it is not something that happens everyday, and a donation of this size is really impressive, especially for a group of children. This is amazing. I don't think we would have expected this but they loved this patient and it is so nice to see the support they gave."
The donation was made in honour of Marlene Stroeve, and Craig Sosick.
Sosick, a prominent figure of Picture Butte, and former owner of Putsy's Manure Hauling passed away earlier this year; Stroeve, a former teacher at St. Catherine's school in Picture Butte, lost her lost her battle with cancer in April, 2023.
Marlene's daughters Angie  Van Zeggelaar and Tammy Slomp said the donation left them speechless.
"We can hardly talk," Van Zeggelaar said. Both Slomp and Van Zeggelaar said their own children have been members of the with the Turin 4H club.
"What the kids did what one family raised the lamb," and later auctioned it off at the clubs auction and show and sale.
Van Zeggelaar explained, "then at our show, they had the auction and people would buy it, and donate it back and then re-auction it. They just kept going and going and then the children decided on the charities they wanted to donate to."
Of the funds raised, $53,000, or 80 per cent of the total funds raised went to the Cancer Centre.
Club leader, Chelsea Neibor, said the remaining 20 per cent split between the Humane society and the Town of Picture Butte.
Neibor said the $6,000 donation to the Town of Picture Butte will subsidize recreation.
"We are supporting swimming and skating for the community."
The Turin 4H club is among several 4H clubs in the Lethbridge region focused on agriculture, education and community involvement.
Turin is a small hamlet located in Lethbridge County, with strong agricultural roots.