Copperheads off to provincials
Posted on March 25, 2015 by Sunny South News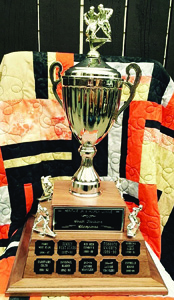 Eight years ago, the Coaldale Copperheads were formed as a junior hockey team to play in the Heritage Junior League, based out of Coaldale.
The team from day one has been a competitive team making playoffs every season.
For the first time in history, this past weekend, the Copperheads won their first HJHL league title.
It was an emotional night for all involved, fulfilling the ultimate goal of bringing home a first-place banner and trophy to Coaldale.
The team, a week prior, gained the south division league title — also marking a first-time achievement, being honoured with a travelling trophy and a banner, as well.
During the second round of playoffs, the Copperheads went the full best of seven games against a tough Strathmore squad.
With the final game having home advantage, the Snakes won the last game of the series.
During the semi-finals, the team was paired up against the top history winning team, Okotoks, which in years past has always been the Copperheads' thorn in their side.
The Copperheads swept the Bisons in four straight games, bringing them to the final round.
Two years ago, the Blackfalds Wranglers won the HJHL title, won provincials and contended at Western Canadians.
The Copperheads not only beat the Blackfalds team, they swept them in three games, allowing them to only score three goals in three games.
The Copperheads will be headed to provincials for the first time, in Stony Plain April 2-5.
Good luck.