Cobras kick it on the ice
Posted on March 31, 2015 by Sunny South News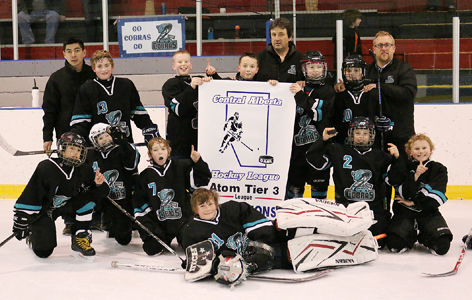 It has been a great season for the Coaldale Atom 1 Cobras.
This terrific team of hockey players played with a lot of heart and hustle all year and it showed in their successes.
The team topped off their hockey season by bringing home the Central Alberta Hockey League (CAHL) Tier 3 banner Mar. 21, defeating the Cochrane Rockies in two straight games to capture the league championship title.
The Atom 1 Cobras also finished in first place in CAHL league standings at the end of regular season play.
It was a busy season for the team — also Zone 5 Atom B champs — earning a spot at Provincials earlier this month.
Although not successful in winning the provincial title, it was an awesome opportunity and experience for all involved.
Coached by Shawn Hass, Jeff Fujita, Ron Duda and Adam Magarrell — the boys thrived, learning a lot about hockey and teamwork.
Head coach Hass said, "It was great to be a part of a group where the kids got along so well both on and off the ice. There were several occasions where other coaches would comment on what a respectful, hardworking group of kids we had. I think most of that credit goes to our parent group for setting a good example and helping to create such a positive atmosphere at the rink."
The Atom 1 team also placed first at the Lethbridge Atom tournament and the Coaldale Atom tournament.