PLAYCoaldale
Posted on May 12, 2015 by Sunny South News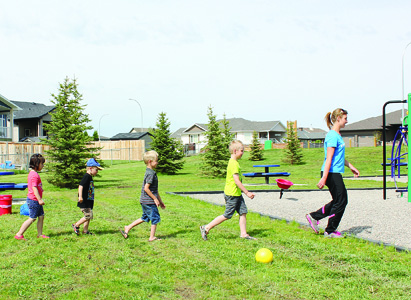 Town of Coaldale
With a focus on helping kids to become active and remain active throughout their lives, PLAYCoaldale is launching in the community. The idea is for parents, teachers, youth leaders, coaches, practitioners and anyone else who works with children and youth to come together to promote, enhance and expand on physical literacy. "It's just a natural fit," said Stephanie Wierl, from the Town of Coaldale.
Physical literacy, at its heart, is the ability to move with confidence and competence in a wide-variety of activities and environments that develop the whole person.
Wierl, Coaldale's community services manager, is spearheading PLAYCoaldale because she is passionate about the impact it can have in the lives of not only Coaldale's children and youth but on the whole community. She is looking to build a PLAYCoaldale leadership team who can help inspire their own organizations — schools, sports groups, community organizations or families to learn more about physical literacy and the lasting impact it can have on the long-term health of Coaldale residents.
PLAYCoaldale is a community-wide initiative aimed at developing and enhancing the physical literacy of children and youth. It is based on four pillars: Leadership, Partnerships, Support and Educate.
Under Leadership Wierl noted the focus is on working with stakeholders, who work with children and youth, to enhance the ways they develop physical literacy and physical activity. With the Partnerships pillar, the focus is on working together with multiple sectors and organizations, which already work with children and youth to increase the level of physical literacy and activity within Coaldale.
With Support, Wierl said, the leadership team will guide all community members and organizations to advance the development of physical literacy.
With Educate, there will be opportunities to participate in workshops and certifications.
Wierl's passion for physical literacy is something she wants to share with residents of Coaldale. She said having a community rally around a concept that will help kids to develop basic physical skills such as running, jumping and throwing will have a lasting impact on the town. "We're going to be a healthier community, working toward a common goal."
At the core of PLAYCoaldale are the stakeholders, the parents, the teachers, the coaches who will get down on the ground and play with kids, set an example for them of physical activity and help Coaldale's children become as healthy as they can be. PLAYCoaldale is also partnering with the University of Lethbridge for the Canadian Assessment of Physical Literacy. The university's Department of Kinesiology with Dr. Jennifer Copeland and Dr. Luc Martin has grad students currently assessing the physical literacy skills of Grade 5 students at R.I. Baker Middle School in Coaldale. The hope is the PLAYCoaldale initiative will help give teachers and parents the support they require to help increase physical literacy skills in these students. The U of L will reassess these same students in the fall, when they are entering Grade 6 to see if there is any difference in their physical literacy skills.
Wierl said this project will be part of an upcoming Health Kids Canada report card. "For our community to be part of a national study is incredible."
She said this research is only happening in one region in each of the provinces and territories across Canada. The Baker students are numbered among only 1,200 students being tested in this region. For anyone interested in being part of the leadership team there is more information on PLAYCoaldale to be found on the Town of Coaldale website at http://www.coaldale.ca/playcoaldale.
PLAYCoaldale is supported in part by an RBC Learn to Play project.