Shelby Turner returns from X Games Endurocross competition
Posted on June 23, 2015 by Sunny South News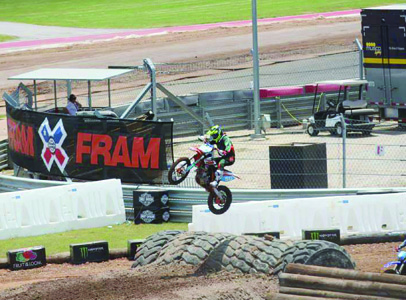 By Stan Ashbee
Sunny South News
Competing in the X Games is a pretty big deal. Just ask Barons resident Shelby Turner, who at 19, just came back from Austin, TX where this year's X Games wrapped up earlier this month.
According to her official X Games bio, Turner hails from her family's grain farm outside of Barons and the pro- Endurocross racer lived in Calgary while finishing up school to become a paramedic. Her bio also stated X Games in Los Angeles, CA was her first time competing in the Games.
Austin 2015 was Turner's third X Games appearance. A pro since 2009, her official bio stated, she was named the 2010 CMRC Women's Western National MX Champion and the 2010 Canadian Women's National Off Road Champion. She scored second overall at CMRC Women's Western MX Nationals in 2013 and 3rd overall in the 2013 AMA Endurocross series. Turner finished sixth overall at this year's X Games in Austin in the Women's Endurocross category.
"It's logs and obstacles inside a confined area," she explained, about what Endurocross is. She added, the course isn't very big and takes about one to two minutes to complete a lap. "And we did six laps," she said. "I have a fifth, an eighth and a sixth," Turner added.
Turner, has been racing since she was four years old.
"My parents, actually they race, and kind of got me into it. So, my parents and my brother both do it and I wanted to ride to. That's how it went," said Turner. It was plain and simple.
Right now, when not riding, Turner is an EMT.
"I just got out of school last year and I am pursuing a career on the ambulances."
Competition-wise, Turner said, she is following the remainder of the Endurocross series, which takes place in the United States.
"It starts back up again September, October and November. In the summer, I'll just be filling in with local events around Canada and Alberta," said Turner.
Turner said there's a lot of training that goes into a future competition such as the X Games.
"I ride a lot and I'm in the gym quite a bit."
The X Games experience was amazing, as it is each and every time, according to Turner and there are some great athletes in competition.
"It's definitely a lot of fun. To be invited and be able to participate in something that's that big. The best way that we like to describe it is — it's kind of like the Olympics of dirt bike racing. It's a really big deal for bikers to actually get in there," said Turner.
Turner pointed out there were five Canadians participating in the X Games this year.
"One was in the men's event and four of us qualified to race in the same event that I did. I was the top placing Canadian."
Outside the competition aspect of the X Games are the live music events and camaraderie between competitors.
"We did as many events that we could. Our passes get us kind of anywhere we want to go. We participated in a lot of that. Metallica was playing, so we went and saw Metallica and so was Niki Minaj. It was awesome," said Turner.
As for any future X Games competition, Turner said, she would like to compete but has to qualify to do it. "It's not super easy to get into. Hopefully, I go back again next year," said Turner.
Lethbridge County Coun. Steve Campbell noted Turner's uncle Jason was a figure skater in the Olympics back in the early 1990s. "So, world events are normal," he added.