Hernandez returns from Pan Am Games
Posted on August 4, 2015 by Sunny South News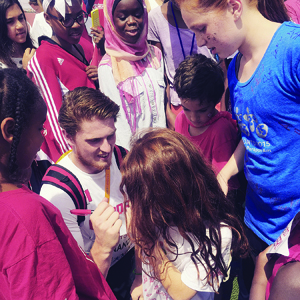 By Stan Ashbee
Sunny South News
Coaldale fans and southern Alberta, as a whole, were cheering on one of their own at the Pan Am Games in Toronto — as Coaldale's homegrown track and field hero Aaron Hernandez competed in triple jump at the Games July 24. "The experience was just insane. Getting to compete in front of my home country — when I competed, it was almost a full crowd. Hearing them cheer you on and start clapping for you — it was incredible to hear it all. I don't think there will be another experience like that here in Canada for awhile," said Hernandez, who recently returned from Toronto, after just under two weeks of prep work, training and competition.
Hernandez, a graduate of Kate Andrews High School in Coaldale, noted he was able to get in a few good training sessions, took in some of the other events at the Games and watched fellow Canadian athletes compete.
Unfortunately, Hernandez didn't get a recorded jump this time around. "I was jumping really well. Some of the best jumps, I've probably had all season. The big problem was I just couldn't get on the board. They were all faults. No recorded jumps but I jumped really well. It was really good for my confidence. The experience of being there was just unbelievable and knowing I can hopefully take this experience and use it towards future Canadian teams and hopefully one day an Olympic games," Hernandez explained.
Next up for Hernandez is to finish up the season, as he heads off to the northern Edmonton area for the Western Canada Summer Games. "I got named as a team captain for Team Alberta. That was an awesome thing for me. It's a good achievement for me. I'm looking forward to that — to close up my outdoor season."
After that, Hernandez added, is the push towards the indoor season, which will include the CIS. Hernandez added he will work towards hopefully securing a third national title. "Towards the outdoor season for next year, it will probably be a push for NACAC, which is the North American, Central American and Caribbean Athletics Association. It's a championship they have every year. I think I will push for that next year," said Hernandez.
Right now, Hernandez is beginning to settle into his off season and will get back to training at the end of September for base training for the indoor season and training will be full-blaze after that.
"Working towards the CSI indoors and then we'll probably, after the indoor season, we'll turn right around and probably go somewhere down south to get some warm weather training in and then open my outdoor season somewhere down south," he added.
Back to the Pan Am Games, Hernandez said, Canadian pride in Toronto during the Games was unreal.
"Trying to leave the stadium after I competed, it probably took me between an hour and an hour and a half to get out of the stadium. I was signing autographs and taking photos with a whole bunch of people. That was an incredible experience. Something I never experienced before. It was definitely something new for me but I loved every minute of it," said Hernandez.
"It shows what Toronto, as a city, can do for hosting a multi-sport games like that. I know there's been talk of them making an Olympic bid for 2024 and I honestly hope they do make that bid."
Aside from competing, Hernandez noted, the closing ceremonies were quite memorable and the camaraderie between athletes will be something Hernandez will never forget.
"Just meeting all the other fellow Canadian athletes and making new friends. Getting to know other people and the sports they do. And, even athletes in track and field I've never met before. It was awesome seeing them compete and getting to know them on a personal level," added Hernandez.