Sunny South salutes Minor Hockey Week in the county
Posted on January 19, 2016 by Sunny South News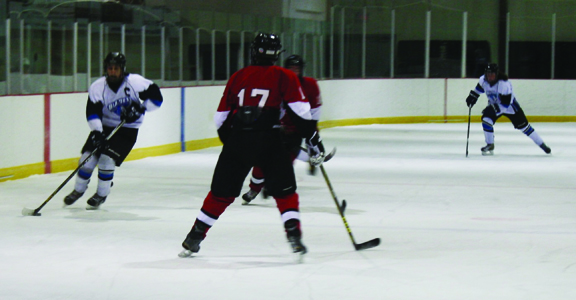 Coaldale Copperheads
It's been kind of a roller coaster ride for fans the past week with hopes of a make up game against Medicine Hat to take place this past Saturday night.
Instead, it was at last minute cancelled once again due to a Medicine Hat continual season struggle.
The HJHL has accepted a decision to offer the Cubs a "leave of absence" for the remaining part of the season. Medicine Hat has been a competitive Junior B team for 42 years and find themselves needing to re-group. The remaining league games scheduled will all be awarded two points to the opposition.
Unfortunately, it will leave one less home game for the Copperheads but benefit with two points.
An important game was played on Sunday on the road against another south division team, Okotoks. The entire team played with a "heart and soul effort " for the majority of the game.
With a final score of 9-6, the Copperheads collected a huge win closing the gap between second and third place teams.
Next weekend, the Copperheads will be on the road for an overnight back-to-back in Mountain View and Stettler.
Following that on Jan. 30, it's the final scheduled league home game. Match up will be against the current top team of the south, Cochrane.
A reminder to all fans — this will be the last opportunity to use up season tickets — playoffs will not be valid.
To follow the Copperheads for all live play-by-play throughout games you're encouraged to join the team's Twitter feeds.
The Picture Butte Witdouck Farm Midget Blades hosted their home tournament this past weekend and had a win, loss and a tie.
The team began the weekend facing off against Airdrie and lost 6-2. The second game of the weekend was against Elk Valley, where the team skated to a 4-4 tie.
On Sunday, the team played Lethbridge and won 12-5.
Points in the games came from Jared McCloud with eight, Landon Veluw with six, Jackson Liska added five, Zach Liska and Jesse Shoemaker each had four, Jared Witdouck and Kyle Davies added three each, two points came from both Noah Braun and Markus Renning, while Nick Grant, Tristan Heins, Kolten Heins and CJ Currie each had one.
Nash Ober earned both a win and a loss between the pipes and also had a point.
Reed Graham earned the tie on the weekend.
A Salute to Minor Hockey Week
The following are comments from Picture Butte and area hockey parents, players, fans and coaches.
Kevin and Cameron Veluw said they love tournaments and getting to know the players.
Parent Tim Ober believes it's a nice family activity.
Parent Terra Liska said she loves watching her kids play.
Parent Sarah Currie said she likes the fact boys and girls can play together and girl hockey is becoming more popular and recognized.
Player Riley McCleod likes the team bonding.
Parent James Middelton said Picture Butte residents live in a hockey town and he wants his kids to be part of that. He added that is something Canadians can do for almost a Canadian's entire life.
Player Brody Braun said he likes playing with his friends.
Parent Trevor Currie said he enjoys the time driving to games one-on-one with his child. He added he also enjoys the social activities that come out of the hockey community.
Parent Sandy Widdock said the weekend outings are enjoyable and it gives the whole town something to do.
Coach Mark Heins said he enjoys watching the kids grow and develop.
A thanks to Charlene Heins for the help with community comments.
Charlene said she thinks minor hockey teaches the kids so many life skills.
"They learn respect, responsibility, team work and co-operation, perseverance, to develop skills, great physical fitness, how to deal with pressure, how to be a generous winner and a gracious loser," she noted.
The Wilbur Ellis Picture Butte Peewee Blades had only one game this past weekend but it was a game like no other.
It was in Warner and Aiden Peterson worked hard between the pipes but came up short. The Blades played short handed for two-thirds of the game, accumulating 38 penalty minutes.
Despite this, it was a very close game throughout all three periods.
Going into the the last two minutes of play it was a 6-5 game for Warner and the 'Butte coaches pulled their goalie. Warner scored one open net goal making the final score 7-5 for Warner.
Players getting points for the Wilbur Ellis Blades were Riley McCould, Nathan Harrington, Hunter Van Vaerenbergh, and Logan Hillaby all with one and Caden Heins, Nicolas Rudelich, Ryan Holm with two points each.
The team would like to invite the community to come out to the North County Sportsplex in Picture Butte to watch some great hockey action, as the Wilbur Ellis Peewee team hosts a tournament.