Novice Blades action
Posted on March 15, 2016 by Sunny South News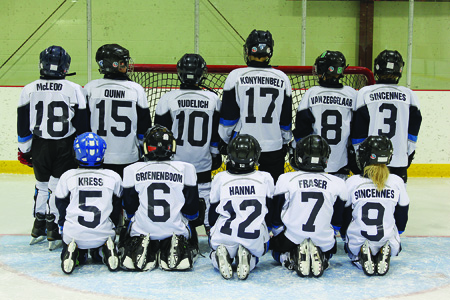 The Picture Butte Novice Blades ended their season on a high note with a 6-3 win over the Fort Macleod Mavericks in exhibition play last Sunday.
Braxton Hanna scored three goals for the Blades, while Leland Fraser, Tanner Quinn and Carson Konynenbelt each netted a single.
The Blades played their hearts out all year long and it was great to see the improvement in skill and sportsmanship in all the players.
The Blades had one last practice on Thursday night and decided to take on their moms and dads in a very fast-paced rivalry between young and old.
The moms and dads had a blast out on the ice with their kids, and were pretty amazed at how fast they really can go out there.
A great big thanks to the coaches this year — Greg Konynenbelt, Doug Rudelich, Darren Van Zeggelaar and Mark Groenenboom and manager Shauna Konynenbelt. See you on the ice next season.
*EDITOR: The Sunny South News would like to thank the Picture Butte Novice Blades for a great season and wish them all the best next year. Also, a big thank you to the team's media contacts for providing game results and pictures all season.