Copperheads prepare to hit the ice
Posted on August 30, 2016 by Sunny South News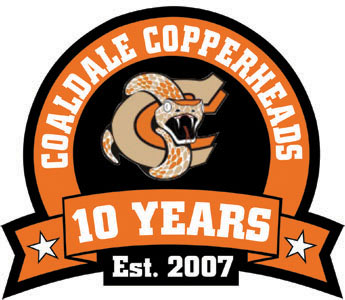 By Stan Ashbee
Sunny South News
Coaldale Copperheads hockey in the Lethbridge County community celebrates 10 years this upcoming season. The Junior "B" ice hockey team was established in 2007 and are members of the South Division of the Heritage Junior B Hockey League (HJHL).
"It's a big milestone for us. We have a new logo for our 10-year. We've been running a summer camp through the month of July and we had a great turnout — close to 40 kids. We're going to go for the big push and try to win league again this year. It's looking very promising — returning players and we acquired a bunch of new guys coming in. Of course, you don't really know until registration when they show up," said Kelly Wiebe from the Coaldale Copperheads.
Here's the Fall 2016-2017 Camp Tryouts with ice times as follows for the first set of tryouts with all sessions to be held at the "Snake Pit" or Coaldale Arena: Sept. 8 7-10 p.m., Sept. 10 7-10 p.m. and Sept. 11 3:30-6 p.m. Players are guaranteed three ice times. Cost is $125 (jersey included). Method of payment accepted is cash or cheque (cheques made payable to Coaldale Copperheads). Registration options prior to ice time include the preferred date to register Sept. 7 at Lethbridge Sport Chek from 6-8 p.m. Another registration is Sept. 8 at the Coaldale Arena from 4-6 p.m.
For registration and medical forms or more info check out coaldalecopperheads.com.
According to coach Derek Wiest, the hockey club is pretty excited to hit the ice again this season. "We've got a good team coming back, a veteran team again. Guys that have won before. We ended up losing some very good overages but as far as other players coming in and newer guys coming to camp — it will fill the void a bit and we'll be a little deeper team. I think we'll be one of the top teams in the league going forward," said Wiest, a third-year coach with the team.
Last year, Wiest noted, the team fell a little short in the south finals and he believes there will be a lot of returning players this upcoming season that had a feeling of hurt from last year's season-end blow.
"Sometimes, when you lose out and you feel you could have won, you learn from that and you come back that much stronger of a team. We've got a good group coming back. I think we'll just move forward and now know what it takes throughout a whole season to try to be on top," he said.
Anybody can register, according to Wiest, for this year's team.
"Everybody's welcome to try out. We just want to see as many kids as we can out there, to try to make the best team possible," Wiest added.
Coaldale Copperheads Home Opener is Sept. 17 at 7:30 p.m. against High River.