Quite a catch for local anglers
Posted on November 29, 2016 by Sunny South News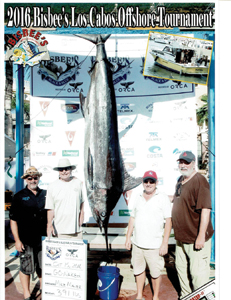 By Stan Ashbee
Sunny South News
What is 391 pounds, 12-feet long, was worth $235,000 US and was caught during the 11th Annual El Gunny "Bite Me" Fish Hunt in Cabo San Lucas?
It was a blue marlin caught by Mike Maier from Lethbridge and his crew, during a tournament in memory of Coaldale resident Gunther Duda. Gunther was Coaldale town Coun. Sherrie Duda's husband's cousin. Coun. Jack Van Rijn also attends the annual tournament each year.
"We started an annual fishing trip to Mexico 11 years ago and one of our dear friends Gunther, who is actually from Coaldale, passed away. We renamed it as a memorial," Maier explained.
According to the award-winning angler, whenever the local group can match up to the Bisbee's Los Cabos Offshore Fishing Tournament, the group tries to piggy back on it. The tournament is a junior Black and Blue Tournament. He added the Black and Blue is the largest tournament.
"Myself, my brother Lee and two friends that like to go on the boat with us," he said.
This year, he said, the local team crossed their fingers they would one day make it to the weight scales. "We've had a few big fish but never had them landed," he noted.
Maier said his team and crew was up against 108 boats from Hawaii, Costa Rica, Miami and other locales and most of the other teams and crews were professionals.
"We went out and it took us about two and a half hours to get there. One bite, one fish, fought it for two hours, took two and a half hours to come back on the first day and we weighed it and won the first day. They said the first day normally wins you about $80,000 or $90,000 US. We were pretty excited," he said.
With the first-day win, Maier said, he and his team went through the excitement of the scales but also the 100-200 people with cameras including TV crews and the like. "It wasn't a monster but it was a monster for that day," he added.
On the second day of the two-day tournament, which was held in the middle of October, the crew's fish was still standing but just before the tournament cutoff time, another boat came in with a professional team and a fish 50 pounds heavier than theirs, Maier said.
To make a long story short, Maier said, the crew went to the awards ceremony, which included the Mexican crew.
"They were really the guys with the skill and kept the fish on the line," he noted.
At the awards ceremony, it was announced Maier's crew won $235,000 US but they thought they would only receive close to $80,000. "Our crew got $25,000 US each, which I was told is just about enough for them (the Mexican crew) to buy a house," he said.
"We walked out with about $50,000 each," he added.
Apparently, according to Maier, the reason his team won the big prize was because the professional team from Hawaii had only paid the entry fee and didn't register for the jackpots and other draws.
Maier said he and his team were overwhelmed with the win, especially being just four guys from Alberta and not professionals. He said the best part was being able to help out the Mexican crew.
"That was like them winning the lottery. Their family, their wives, were all crying, it was very heart warming," he said.