Curling provincials going in Coaldale next week
Posted on February 6, 2018 by Sunny South News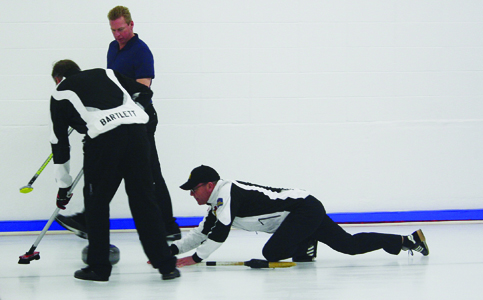 By Nikki Jamieson
Sunny South News
Next week, some serious curling will be taking place in Coaldale.
The Coaldale Granite Curling Club will be hosting the 2018 Men's and Women's Senior Provincial Curling Championship, with the opening ceremonies going at Tuesday, Feb. 13 at 5:30 p.m. and play beginning the following day.
"Coaldale has got a very good reputation in Alberta for hosting national and provincial events," said Roger Hohm, chair of the host committee."We will have a total of 16 teams coming from across Alberta and northeastern British Columbia."
Over the course of the six-day-long event, eight men's and eight women's teams  will compete for the provincial title. Semi-finals go 7 p.m. on Saturday, Feb. 17, unless a tie-breaker is needed, in which case they would go on Sunday, Feb. 18. Finals are scheduled for Sunday at 10 a.m. unless a tie-breaker is needed, at which case they will go at 2 p.m.
"It's kind of interesting when you look at the lineup of some of the teams coming, we have both national and world champions, that when they were curling in regular mens or regular ladies curling, are actually now curling in seniors, so we got some very talented curlers coming to the Granite Club."
Although most of the committee have filled their volunteer spots, Hohm says that if somebody wished to volunteer to contact the Coaldale Granite Curling Club and they will find a spot for them.
"I think we're ready to go," said Hohm. "We're into the nitty-gritty, the details of when they arrive, whose going to be there to take pictures, who's inputting scores into the computer to make sure that everybody across the province in Canada can keep right up to date with what the scores are, and who's doing what.
"The big picture stuff is already taken care of, now it's the day-to-day stuff."
Coaldale is no stranger to hosting curling championships. Several provincial have taken place here, and in 2014 the Canadian Masters took place here. Although there is the fear of complacency because of it, everyone has been eager to step up again.
Another boon has been that Lethbridge had hosted the junior championships in December 2017, so a number of Coaldale volunteers had helped out there, and Lethbridge volunteers are helping out with the senior championships in return.
"Sometimes, you get a little complacent when you've done a few of these, because you kind of expect that everybody knows what to do. But we've got a great team together, that's the nice part about having done a number of championships in the past," said Hohm.
"We've got a strong team in Coaldale."